23 Pet and Dog Friendly Hotels in San Diego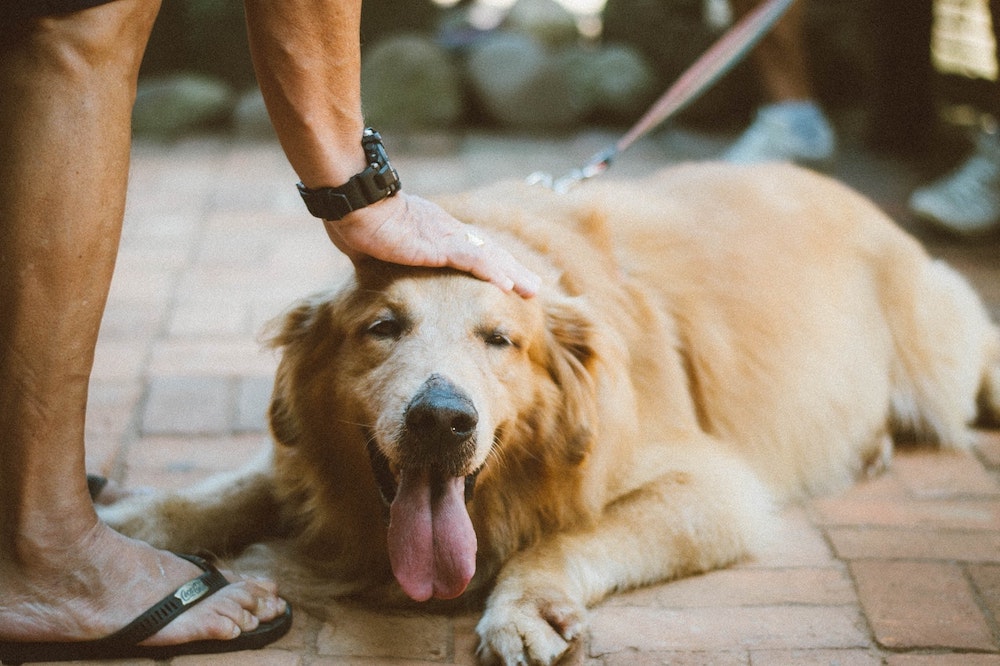 There are many great reasons to visit San Diego. If you have never been, you are in for a real treat. If you decide to come for a visit, you will be one of over 35 million who make the trip this year. San Diego is one of the top US destinations. Consider yourself in good company.
With so many annual visitors, you might guess that booking a hotel can be a challenge. It is a good thing that there are over 600 hotels in the area waiting to take your reservation. With so many visitors coming for some many reasons, it is a good thing the choices of accommodations are so numerous and diverse.
If you happen to be a travel enthusiast who also has a pet, you already know how challenging it can be to find accommodations, especially at a hotel at which humans would also enjoy. Not to mention the double luggage you need to travel with for your pet; a crate or kennel, pet food, leashes, collars and more!  That challenge is compounded when the trip requires fast action with no time to properly plan. You can't leave your dog at home unattended for a week. And you might not be able to find a kennel that can take on your pet with such short notice. If that is your situation, don't let that stop you from making the trip to San Diego. We have great pet and cat boarding in San Diego that will pamper your babies while you enjoy your vacation.
Best Dog Friendly Hotels in San Diego to Consider
You're in luck. Pet friendly hotels in San Diego abound. Some cities are downright hostile to pets. In those places, it is hard to find a place to live that allows pets, let alone, pets in hotels. If you do find a rental that allows pets, there is usually a lot of red tape and extra expense. There are pet fees and even monthly pet rent on top of what you are already paying. These cities punish you for having a dog.
That is not the case in San Diego. Dog friendly hotels in San Diego are not hard to find. That said, with over 600 hotels from which to choose, you could use a hand narrowing down the choices. You don't want to just show up and hope to luck your way into one of the dog friendly hotels in San Diego CA. A better plan is to start with a guide to the best dog friendly hotels in San Diego. Here are a few that should get you started:
1. Manchester Grand Hyatt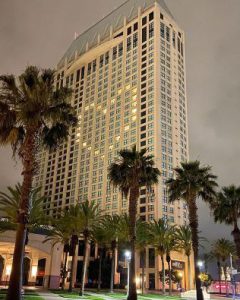 San Diego dog friendly hotels are not that hard to find as long as you know exactly where to look. It also checks the box for being one of the better cheap dog friendly hotels in San Diego for families on a budget. That particular hat trick of being dog friendly, waterfront, and inexpensive is hard to find. So be sure to book early. The pet fee is only $100 for five nights. That covers two dogs with a combined weight of 75lbs. Your pet is not only welcome to come with you on the patios, but also in the restaurant where they will get their own special treat.
2. Hotel Indigo San Diego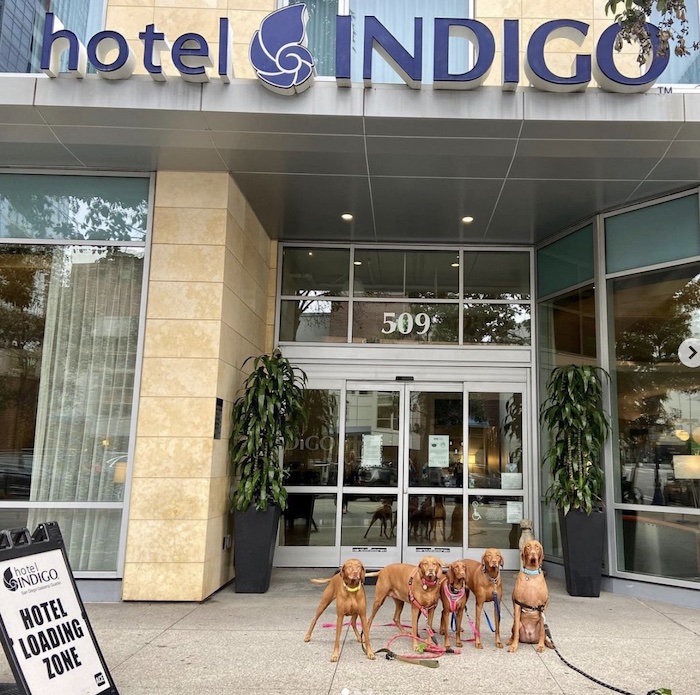 This is one of the best hotels for pets in San Diego. It has everything you need for both you and your pets to have a comfy stay. Located in the Gaslamp Quarter, Hotel Indigo is close to several pet friendly restaurants including Breakfast Republic and the Ballpark.
Your room can accommodate two dogs of any size. Cats are also okay. It is okay for them to be in the room unattended so long as they are well-behaved. The hotel will provide pet beds and bowls, not to mention complementary food and water. There are no extra charges for pets in this pet friendly hotel.
3. Staypineapple at Hotel Z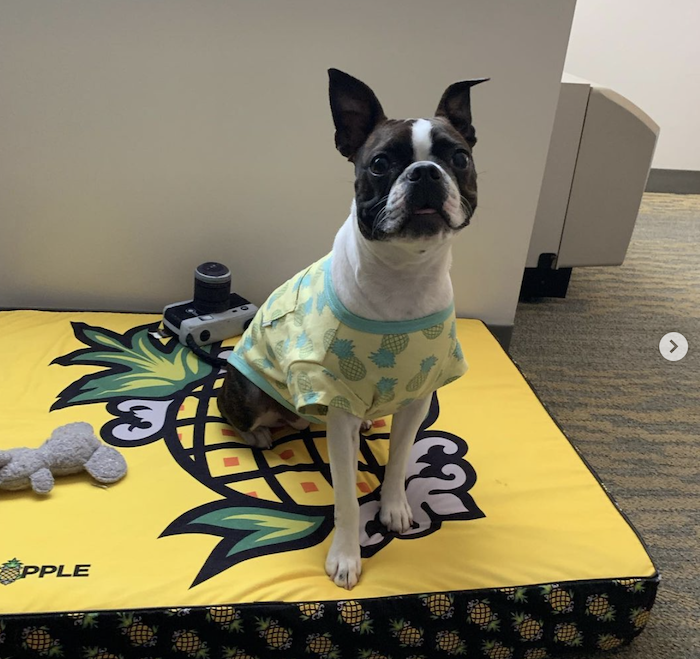 This hotel is also in the Gaslamp Quarter and is in the heart of all the action. They provide accommodations for your dog and take great care of you as well. The rooms are affordable. Did you forget to bring waste bags? No worries. Staypineapple has you covered. Your dog might not care about those complementary waste bags. But they will love all the belly-rubbing attention from the staff.
4. Sheraton San Diego Hotel & Marina
You can't bring pets into just any Sheraton. But for a modest nightly fee, you can bring a dog up to 40lbs to this one. While you can't leave your dog unattended, there are plenty of places in the area where you can bring your dog. To get to the Sheraton, you will not have far to go from the airport. This is one of the better pet friendly hotels near San Diego airport, especially if you are there for pleasure as opposed to business. When you stay at this hotel, plan to take your dog with you wherever you go. A good time will be had by all.
5. Kimpton Solamar Hotel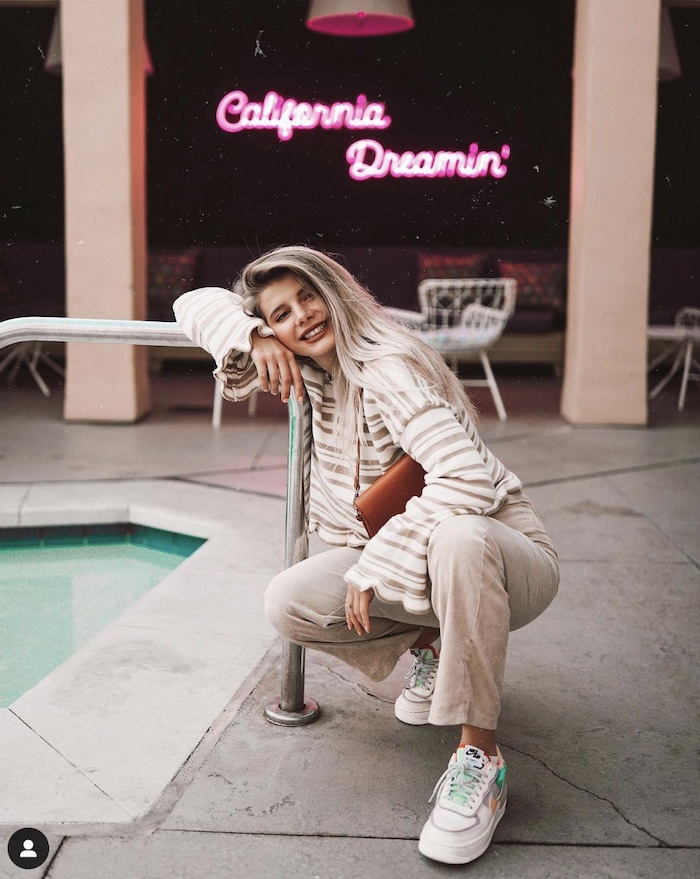 Kimpton properties are known for being pet friendly. The rooms are said to be "quirky" in the best kind of way. It is the place to be when you want to get away from the hustle and bustle of the city. The rooftop is a great place to relax and take a swim. You can also get comfortable in the fitness center.
The Palomar location is one of the great pet friendly hotels in downtown San Diego. As always, your dog is an honored guest. What makes this hotel so special is that you have no limits, bring any kind of pet you want including birds and reptiles. Don't worry about weighing your pet before you come, If it fits through the door, it is welcome at the hotel. As a pet lover, you can't go wrong with a Kimpton.
6. The Keating Hotel by Pininfarina
This is a great place to stay if you are longing for a touch of luxury and chic. It is yet another pet friendly hotel in downtown San Diego. Expect a luxury experience for your pet as well as yourself. They can expect treats and a comfortable bed of their own.
At the Keating, you are right in the heart of the city and the thick of the action. If your dog is a city dog, he will enjoy the walks on the downtown sidewalks as well as a run in the nearby parks.
7. Omni San Diego Hotel
There is nothing wrong with loving dogs and luxury. Enjoy both in full measure at the Omni San Diego Hotel. The views of the high-rise metropolis are stunning. The aptly named Petco Park is nearby. That makes this the perfect destination for sports fans. While there is a size restriction, dogs are very welcome. You will be provided information about nearby places where you can go with your dog so you don't have to guess.
8. Loews Coronado Bay Resort
When you are at Loews Coronado Bay Resort, you're on a 15 acre peninsula. Enjoy the 4 restaurants, 3 bars, fitness center, lounge, pool, spa, and more. You will also have access to Coronado Bay's dog beach with activities for your best friend such as dog surfing. After a long day of surfing, your dog can unwind with you at the bar.
9. Hotel Del Coronado
Think of Hotel Del Coronado as a luxury vacation for your dog (up to 2 with 40lbs limit) where well-behaved humans can also stay. After a few days of fun, sun, and sand, your dog will enjoy a spa day at the groomers. You can leave them in the room if you want to give your dog a break from humans for a while. There are two beaches. When your best friend is with you, be sure to choose the dog beach less than a mile away.
10. Hotel Marisol Coronado
This sophisticated hotel is in a restored building from 1926. It has a number of cultural influences and touches including a Mediterranean-style courtyard. The Fiesta Island Off-Leash Dog Park is nearby, as is the inviting beach. The one catch is there is, at this time, only one room designated for dogs. Just be sure to book early.
11. Hyatt Regency La Jolla at Aventine
These are upscale accommodations for you and your dogs. Feel free to bring them both. Enjoy the generously sized rooms with separate seating areas. If fitness is your thing, you will be happy to hear about the heated swimming pool, tennis courts and gym. If it is more about the dining experience, you have your choice of formal or casual restaurants.
12. Empress Hotel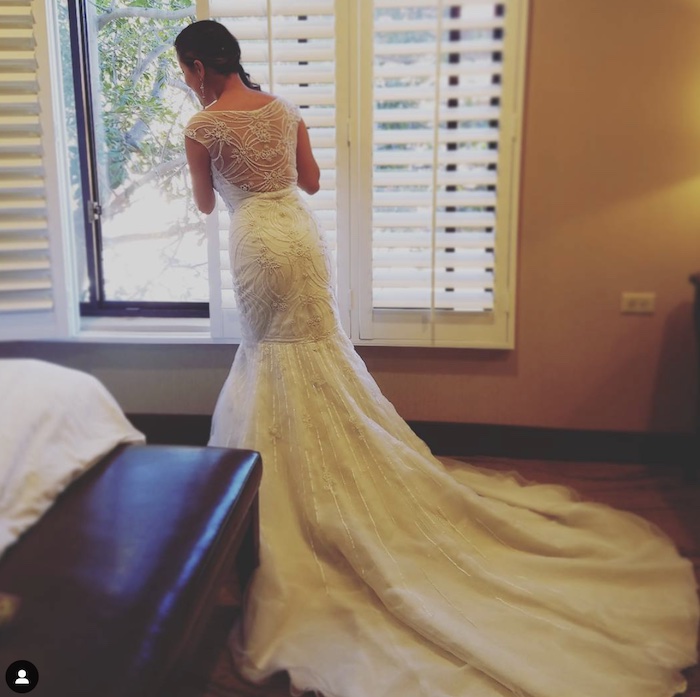 You are going to love the value. When you bring up to 2 dogs not exceeding 65lbs each, the Empress includes a pet package with dog beds, bowls, treats, and more. There is a modest pet fee. But it will not break the bank. If you would like to book a dog walker for 30 minutes a day, you have that option.
13. La Valencia Hotel La Jolla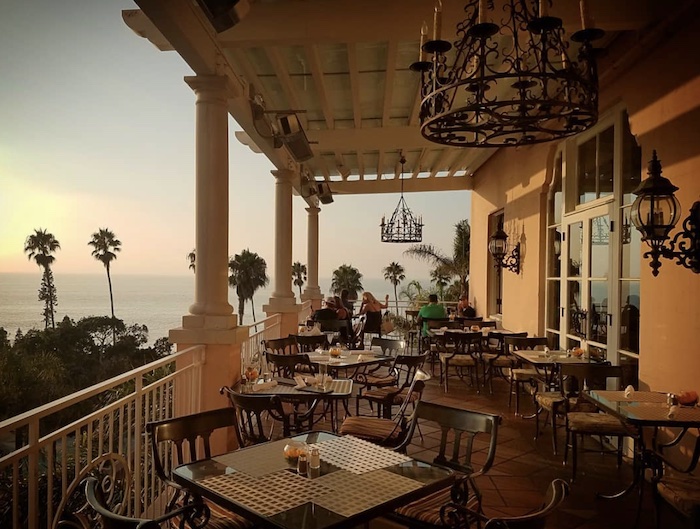 Don't be surprised if you run into a celebrity or two and their dogs. This hotel has been the choice for many. Expect a welcome kit with all the usual supplies, plus one or two you might not expect. There will be a leash and VIP dog collar as well. There is a $50 per night fee for your two pets, dog or cat up to 40 lbs each.
14. Estancia La Jolla Hotel & Spa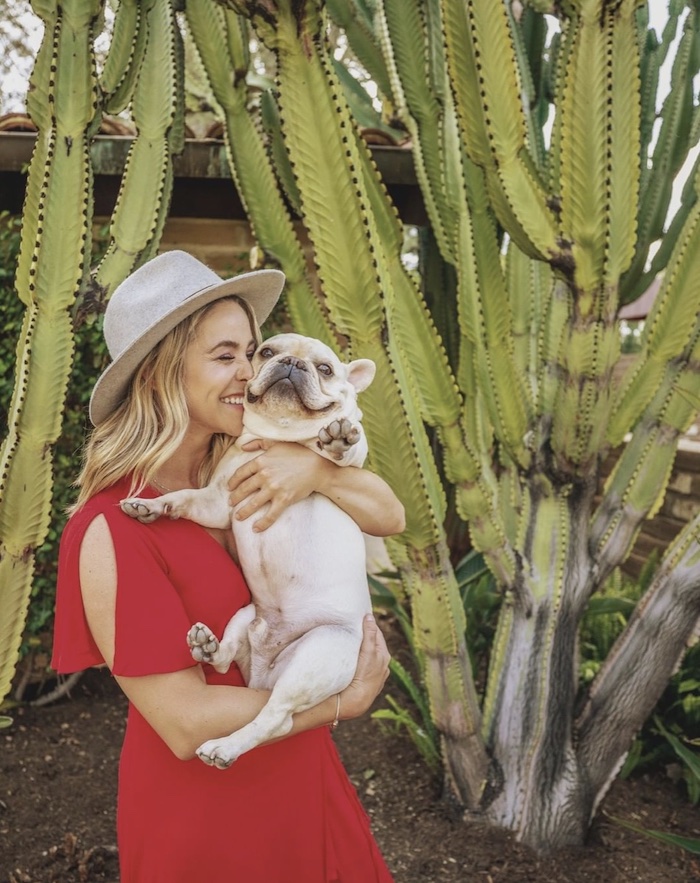 The Del Mar North Beach joins many other open spaces near this hacienda resort. Estancia La Jolla Hotel & Spa welcomes both you and your pet to its 10 acres of paradise. The world class pool, spa, and whirlpool help to seal the deal. This is a nice change of pace if you have had your fill of corporate-looking hotels.
15. Embassy Suites San Diego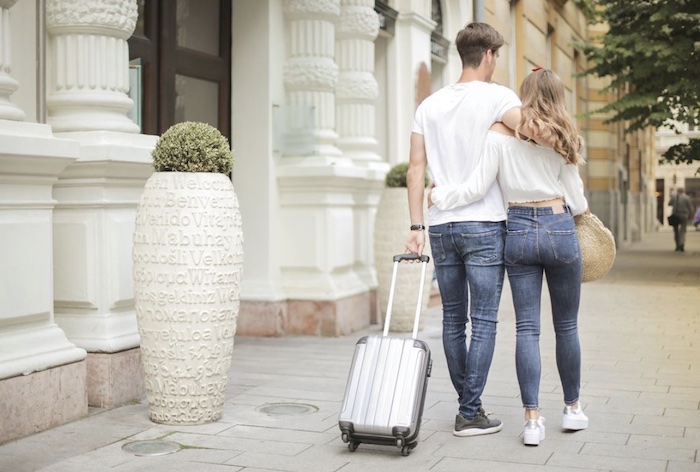 The Embassy Suites is a fantastic hotel at any location. If you are a frequent patron of the hotel, you know what to expect. You will get that, plus the benefit of being in one of La Jolla's finest places to stay. Naturally, because you are in San Diego, your dog is welcome to join you. The dog friendly beach and nearby park beckons.
16. DoubleTree by Hilton San Diego/Del Mar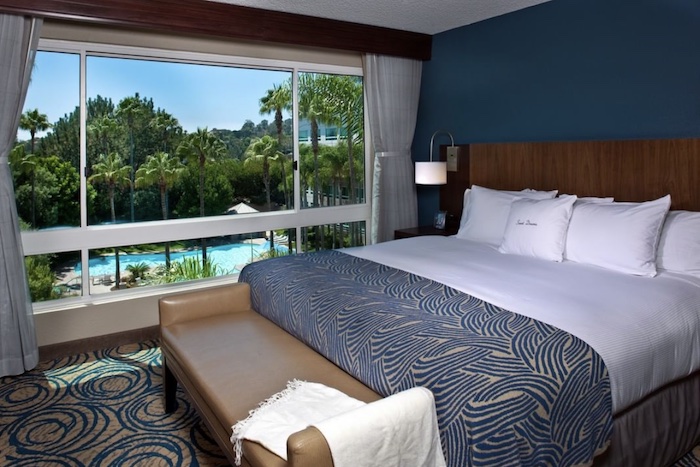 The DoubleTree is another one of those national chain hotels where you have likely lodged in the past. But it is different in San Diego. It is the same upscale room and service with which you are familiar. You might choose this hotel because you have reward points to use. You get the added reward of your dog being welcome to stay with you. Your dog will love the treats and attention from the staff. Both you and your dog will love easy access to Torrey Pines State Beach.
17. The Dana on Mission Bay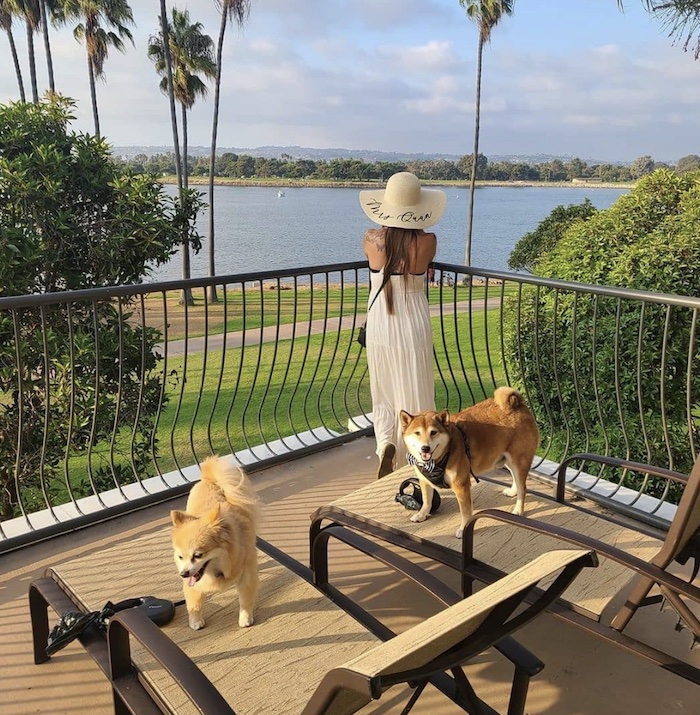 Looking for pet friendly hotels in San Diego Mission Bay? Welcome to The Dana on Mission Bay. This is a California Riviera waterfront property. It manages to be both upscale and casual. Along with the usual amenities for this level of hotel, you will have access to a private marina, watersports, and bicycle rentals. You and your dog will have plenty to do when you stay at the Dana.
18. Kona Kai Resort & Spa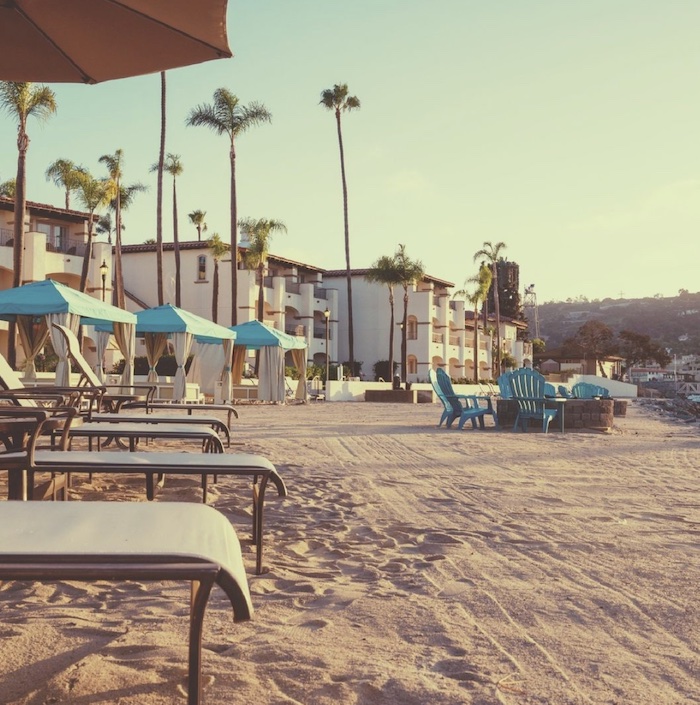 This high-end, Noble House resort is ape about dogs. You will have access to the hotel's private beach, pool, and jacuzzi. Besides the in-house restaurant, they offer a doggy dining service. You can also take advantage of the mobile grooming service. Your dog will want to look her best when she accompanies you during the night out on the town.
19. Residence Inn by Marriott San Diego Central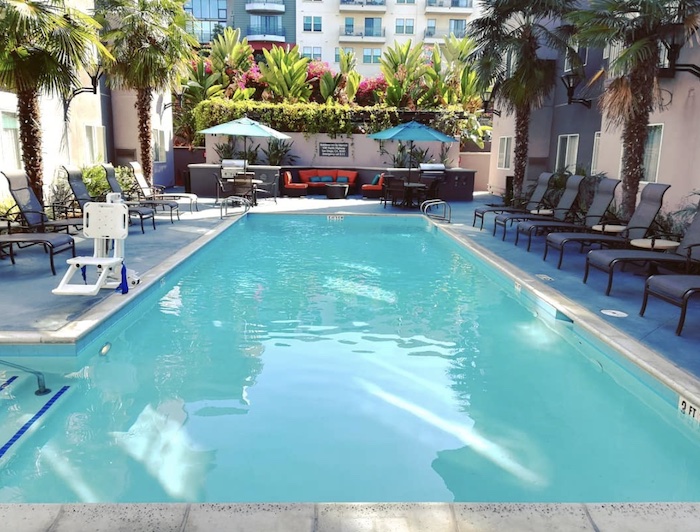 The resident in by Marriott is close to many popular attractions. It is one of the pet friendly hotels in San Diego near Seaworld. While too far to walk, it is an easy Uber ride away. This is another national chain where you can both use your points and bring your dog. Whether for business or pleasure, you can't go wrong with the pet-loving staff at this hotel.
20. Hilton San Diego Bayfront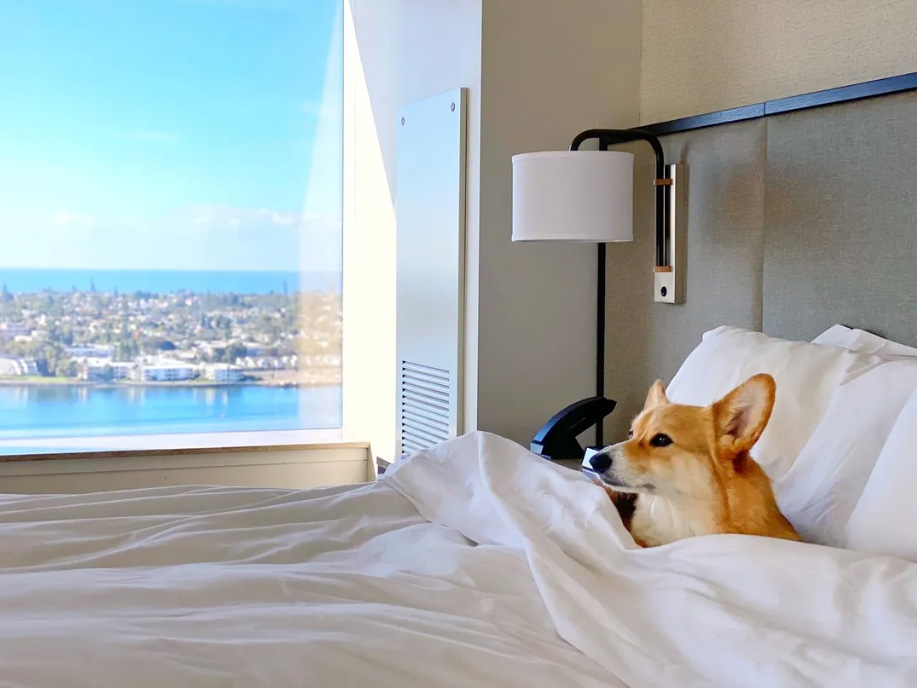 While there are many convention hotels in San Diego, the Hilton San Diego Bayfront has many perks and amenities that businesses and other travelers love. Their spacious rooms and suites make it easy to relax, while their conference rooms and meeting rooms offer comfortable spaces to do business. They make it easy to enjoy a day at the spa, time at the pool, or a meal overlooking the beautiful waterfront. It's a great alternative to one of the San Diego ocean view hotels. Even better, it's one of many dog friendly hotels in San Diego.
21. San Diego Mission Bay Resort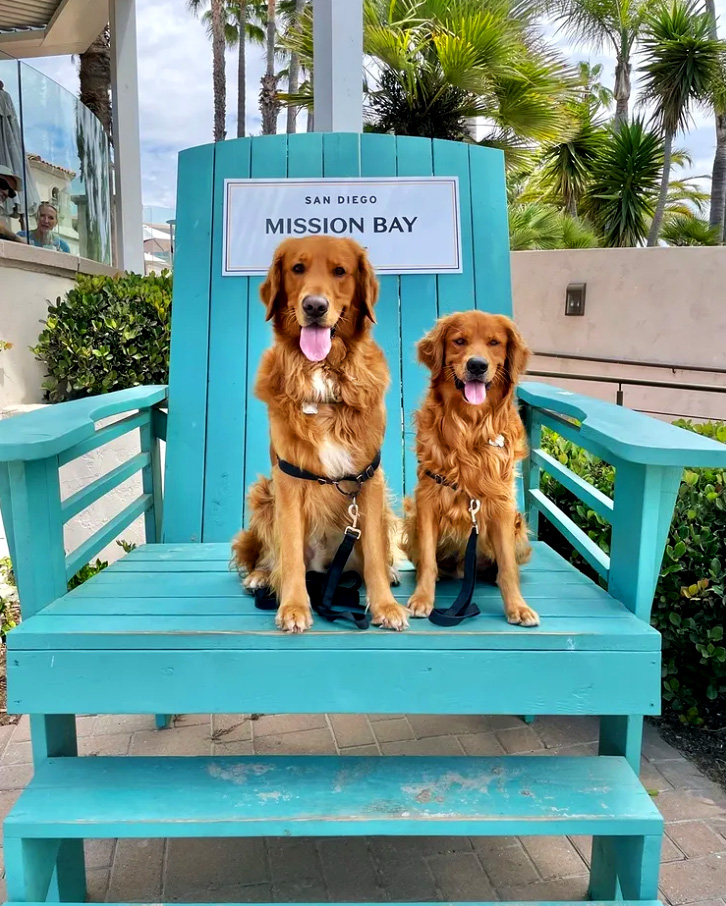 When you're looking for a great time away from home, this is one of the best dog friendly hotels in San Diego and one of the nicest San Diego hotels with pools. Whether you want to get out on the water, or you'd prefer to relax with a massage, they offer many luxurious amenities and is one of the best San Diego dog friendly hotels.
22. West Inn and Suites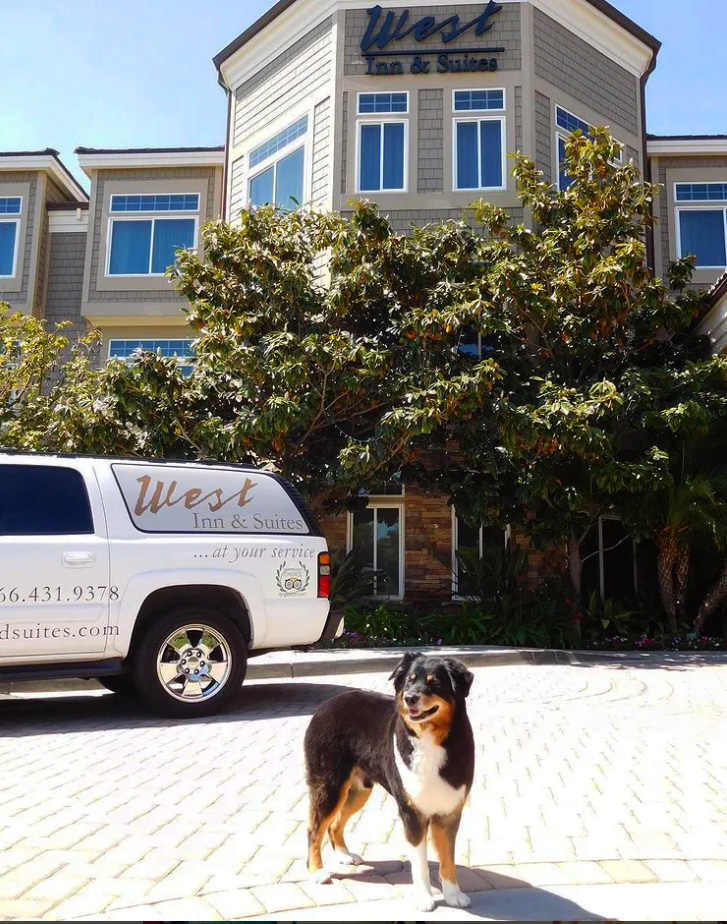 Staying in San Diego for business or pleasure doesn't mean you have to leave your dog at home. You'll love kicking up your feet at one of the nicest San Diego pet friendly hotels. They offer plenty of amenities and are located right on the water.
23. Four Seasons Residence Club North San Diego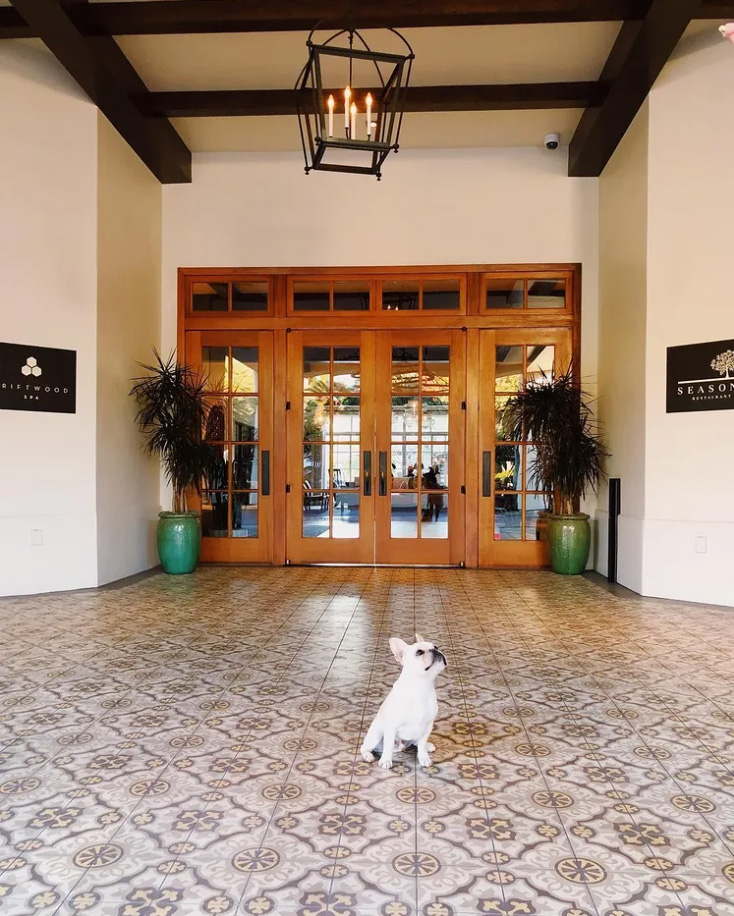 Finding La Jolla pet friendly hotels can be a challenge, so why not stay in nearby San Diego at the Four Seasons Residence Club? From spacious guest rooms to large apartment-style suites, they offer everything you need. You'll enjoy delicious dining options, a full spa, a swimming pool, and even something for the kids.
What you should know about staying in pet-friendly hotels
Staying in a pet-friendly hotel in San Diego doesn't mean you get free reign in the area. Most hotels have designated pet areas where it is appropriate for the animal to be. This is especially true of dogs who often use outdoor spaces to relieve themselves. The best pet owner etiquette means that you'll need to always keep your dog on a leash unless there is a dog park. You need to either stay with them in the hotel or keep them penned up in a crate or travel kennel. This is for the safety of the staff if they need to enter your room while you are away.
Most people feed their animals in the bathroom or on other hard surface floors to minimize the mess. Additionally, if you have an animal that disrupts people in the surrounding rooms, you may be asked to leave. Many San Diego luxury hotels offer additional services to pet owners including dog walking services.
Pet Friendly Hotels in San Diego FAQ
How much are hotel pet fees in San Diego?
It depends on the hotel. Many pet friendly hotels in San Diego have fees as low as $10 per night during the stay. Others only charge $50 per pet for the entirety of the stay. While some charge $50 per night for the duration of the trip. While finding pet friendly hotels in San Diego is relatively easy, it's important to ask about the fees before you book to ensure you have enough for the hotel visit.
What do hotels charge for dogs?
Historically, pet fees were used to help offset the cost of staff members needing more time to clean rooms where animals stayed. Vacuuming dog hair, cleaning accidents, and more can all take additional time to clean up. Additionally, these fees helped hotels when they needed to steam clean the carpets. In the past, these fees were minimal, around $10-$20 for a stay. Nowadays, some of these fees can be $50 or more per night. It seems that the reasoning behind these larger fees might be more to help increase the hotel's bottom line. Other hotels are taking a more reasonable approach by offering reimbursement for some of the pet fees if the room is clean.
Where are dog beaches in San Diego?
When you stay at one of many San Diego or La Jolla pet friendly hotels, you probably want to know where the nearest beach is located so you can both enjoy the surf and sand. When you do a quick search, you'll find that The Original Dog Beach in Ocean Beach is the best dog beach around. Dogs can roam free at this location and it's open 24 hours a day. Another great dog beach close to dog friendly hotels in San Diego is Fiesta Island Off-Leash Dog Park. This location has plenty of open space for play including near the water, on hiking trails, and more. Coronado Dog Beach and Del Mar Dog Beach are two other great locations for dogs and their humans.
What to do in San Diego with your dog?
Traveling to San Diego, especially during the warmer months usually involves a trip to the beach. Thankfully there are many dog friendly beaches in La Jolla/San Diego. Additionally, there are countless trails to hike on, a variety of dog parks, and even some pet spas. If you need a day without your pooch, you can easily find a variety of La Jolla pet friendly hotels that offer dog walking services and more.
What are the best San Diego dog parks?
While Fiesta Island Off-Leash Dog Park is considered one of the best in America, there are plenty of other great La Jolla dog parks to visit in the area. Some of them include Starkey Mini Park, Calumet Park, and Capehart Park. You'll enjoy letting your dog run long stretches, getting some social time, meeting other dog owners, and more when you head to the dog park. You can even look for a dog hotel in San Diego that is nearby one of these great dog parks.
What does it cost to board a dog in San Diego?
Boarding a dog in San Diego may cost you on average $40-$70 per night. There are many factors including whether you choose a private room for your dog, or they board in a shared space. Some boarding facilities offer different services that you can easily add on for your dog's stay.
Final Thoughts on Booking Dog and Pet Friendly Hotels in San Diego
Too many times, a family has to pass on travel opportunities because they have a pet. Even if you can find a kennel, they are often too expensive. You can try to find someone to take care of your pets. But that would involve finding someone you trust enough to leave with a key and access to your home.
Your dog is not the problem. It is the places that don't accommodate pets that are the problem. The solution is to book your next trip to San Diego. It is the capital city of puppy love.
About the author: David Johnson is a professional writer whose relationship with La Jolla started with a family vacation at a young age. A former professional musician, he enjoys creating music in his free time. Additional reporting by LaJolla.com staff.