Nine-Ten Restaurant: the Full Insider Experience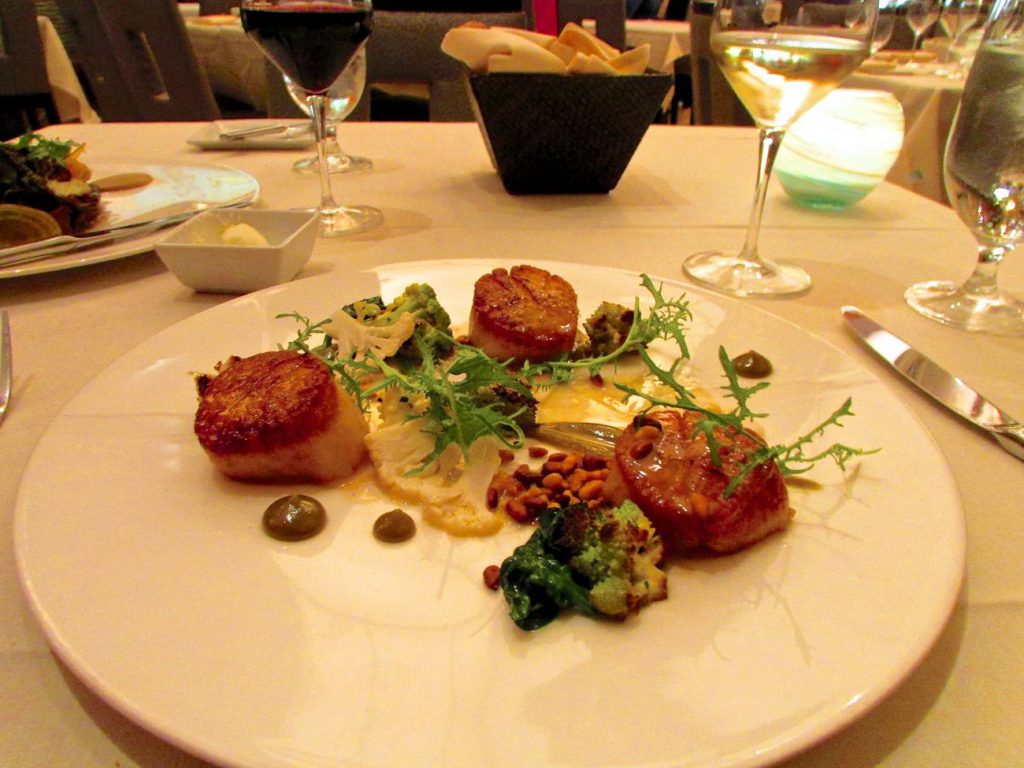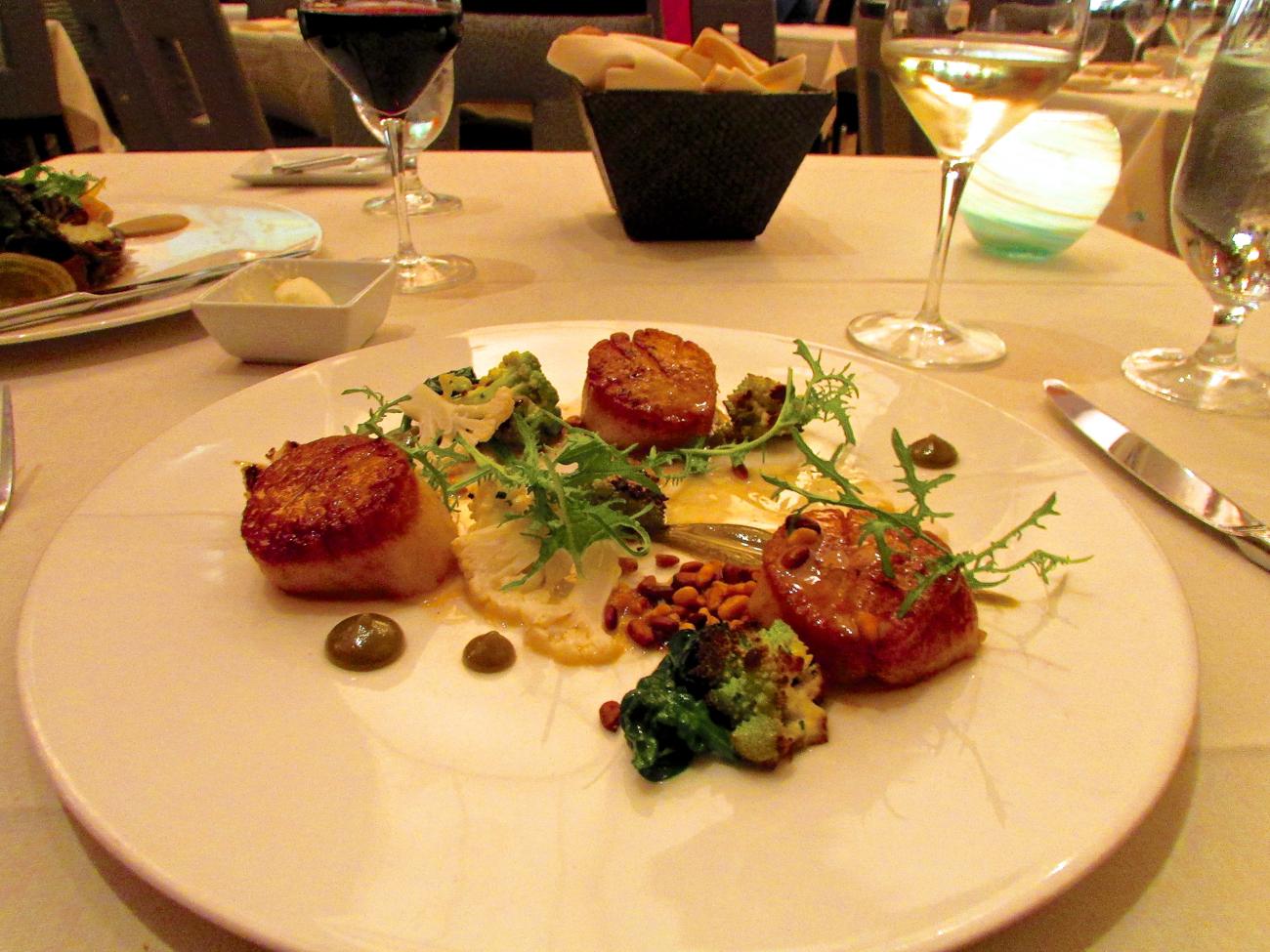 Background & History
In the heart of the village lies the historic Grande Colonial hotel, home to the famous Nine-Ten Restaurant. It's known for three and five-course dinners, an extensive global wine list and desserts that render diners speechless. Many of the dishes have been conceived and crafted by the world-renowned chef, Jason Knibb. He says he enjoys creating his "own version of new American cuisine by taking traditional dishes and giving them a simple, elegant twist". He's received a Zagat food score of 26 (the range of extraordinary to perfection), the Rising Star Chef Winner/Star Chefs award and "Best Chef in San Diego" title. He's also the only San Diego-based contestant asked to been on the show Iron Chef. He represented San Diego magnificently in his seafood & caviar battle with Bobby Flay, and his restaurant is a highlight of San Diego Restaurant Week.
I simply had to experience this chef's wonders for myself and am thrilled to have now done so. The wonderful staff at Nine-Ten hosted me and my date, Jeff, here for dinner one warm Thursday evening in February. We arrived early for our 7:30 pm reservation and were seated immediately. Our waiter, deemed Monsieur French by his fellow staff members, was over promptly to welcome us and recommend drinks to start, which we were happy to have and sip while perusing the menu. Monsieur French's knowledge of the menu and ingredients and was above and beyond.
Upon his recommendations, we decided to order the three-course dinner with wine pairings. We want to go into detail on the food itself, what you really want the skinny on.
To start:
Johnny Appleseed:
My date, Jeff, started with the Johnny Appleseed, a whiskey based cocktail. This pale red beverage was served in a martini glass, a thin sliver of apple floating on top. Though the flavors of whiskey were certainly there, it wasn't overwhelming. The after taste was light, smooth and refreshing. It was love at first sip.
Champagne:
I took the waiter's recommendation and started with Champagne. Crisp, bubbly, invigorating. It was a wonderful way to celebrate the beginning of a fantastic meal.
We were given the rundown of the menu. Monsieur French guided us based on our tastes and interests, recommending which entrees would be best paired with which appetizers. Being a pescatarian, someone who doesn't eat meat but does indulge in seafood, this was particularly helpful.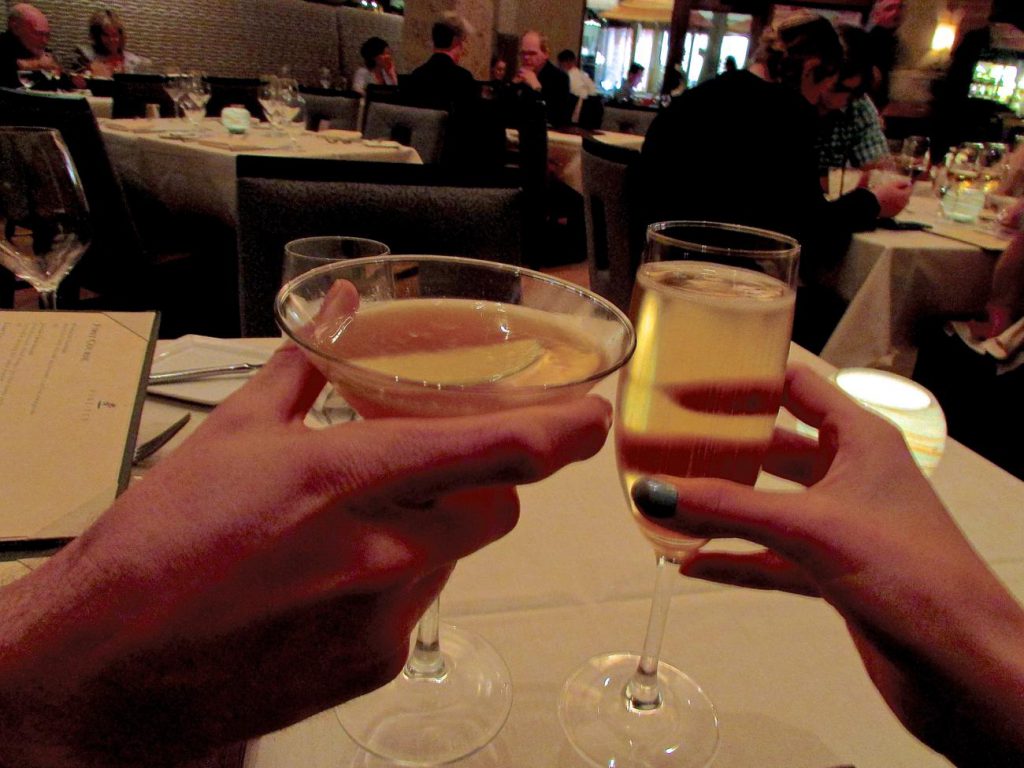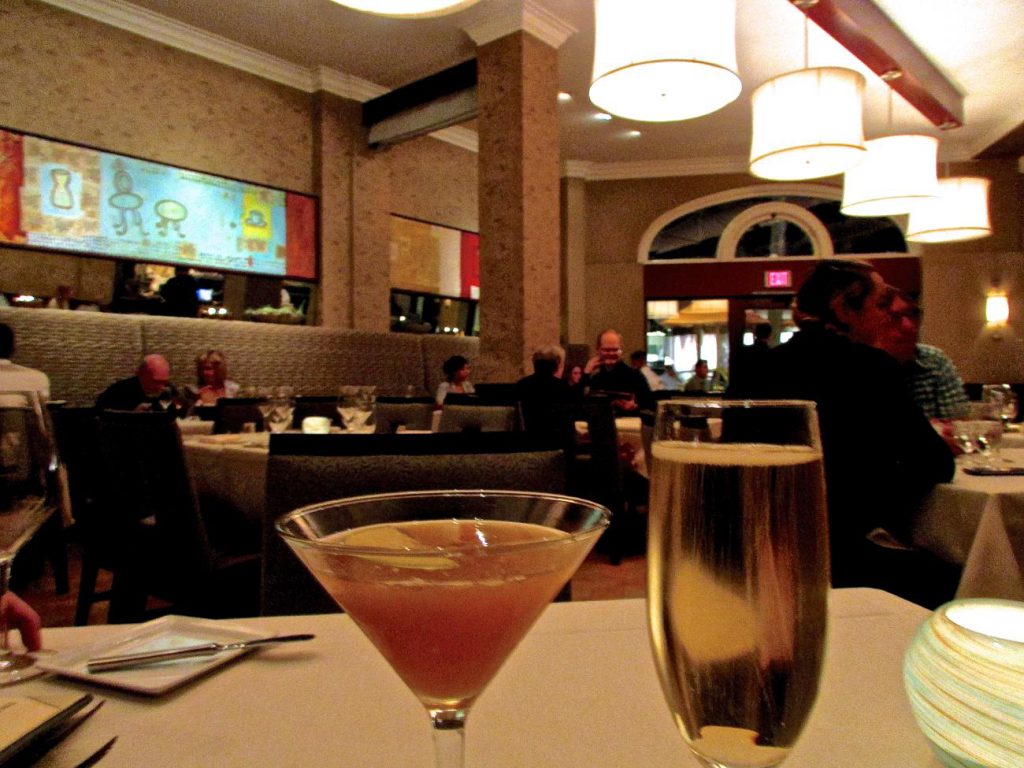 Bread:
Before the main meal is served, bread is brought out for each table, whipped butter alongside it. Our basket was filled with white rosemary, deep colored pumpernickel and a crispy, sesame-crusted flat bread. My favorite was the rosemary, which was light and still hot from the oven. My date prefers his carbohydrates heartier and liked the pumpernickel best.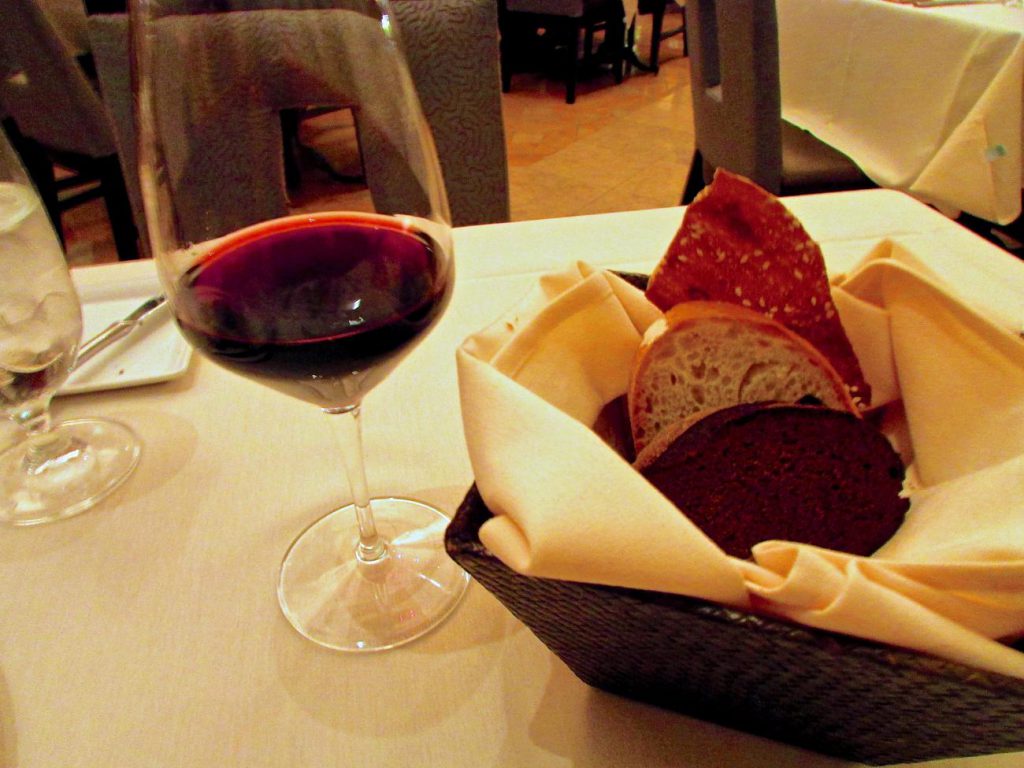 First course:
Jamaican Jerk Pork Belly:
If you or someone in your party truly appreciates a good cut of meat, they must order the Jamaican Jerk Pork Belly. I have never seen a carnivore in this level of heaven before. My date found that the meat was seared evenly all over; each fork placement pulling the meat apart like butter. There was a very thin line of fat running through the cut that added a decadent richness. With most meals, the first bite is the most appreciated. With this dish, however, Jeff announced that somehow each bite tasted even more glorious than the last.
Housemade Gnocchi with Black Truffles:
After hearing the waiter's description of the in-season black truffles, I simply had to try them. These rare treats are imported directly from the south of France and this specific type is only served in December, January and February. Nine-Ten imports truffles from Italy and another region of France during different seasons, but this favorite is only here in winter.
The elongated oval-shaped gnocchi were served in a light butter sauce, the truffles thinly seared and laid on top. The gnocchi softly spread apart and melted with each bite, after which I had to set down my fork to process the rich texture of the dish. Delicious.
Second course:
Braised Prime Beef Short Rib:
My date couldn't wait to try his short rib after his experience with the Jamaican Pork Belly. He enjoyed the dish and found unexpected flower buds adorning the dish. Imagine spring in food form. That's what each bud tasted of.
Jeff enjoyed this dish very much, but had to rate his previous dish, the Jamaican Jerk Pork Belly, higher.
Maine Sea Scallops:
I prepare scallops quite well in my own kitchen, but there's something extra special about ordering them at a restaurant. Every chef has their own unique take on how to serve them. Monsieur French assured me this was a must-try place for this seafood and was right.
I thought I understood Nine-Ten's high quality upon eating the gnocchi. However, after taking one small bite of the scallops, the scale changed completely. Each scallop was full of juicy flavor, light yet decadent. Near speechless, I insisted my date try one. He had thought his short rib was good, but after trying these, said it was no contest — the scallops were better. After near-tears at the dish's delight, we paused until dessert.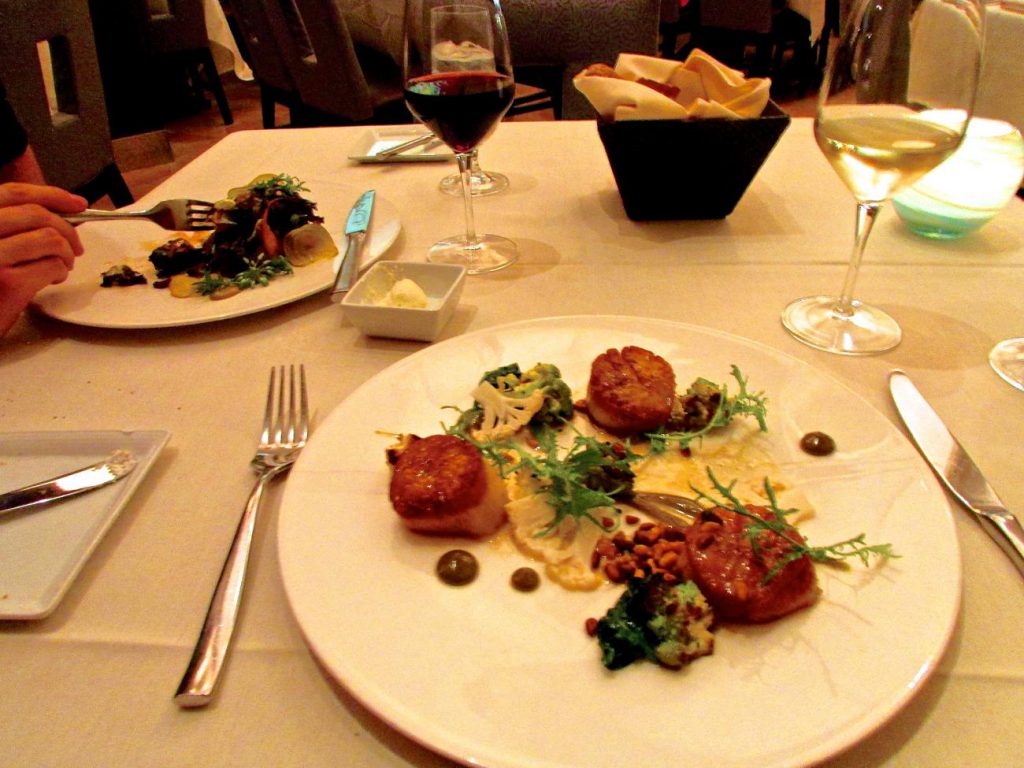 Dessert:
Banana Almond tart:
Bananas and nuts are a classic combination; it's why banana splits are a beloved American staple. This smaller, zippier dessert is far more compact, airy and deluxe than the classic childhood-favorite. The contrast of the fruit-flavored tart base and caramelized almond crisp was delightful; the ingredients were obviously high quality.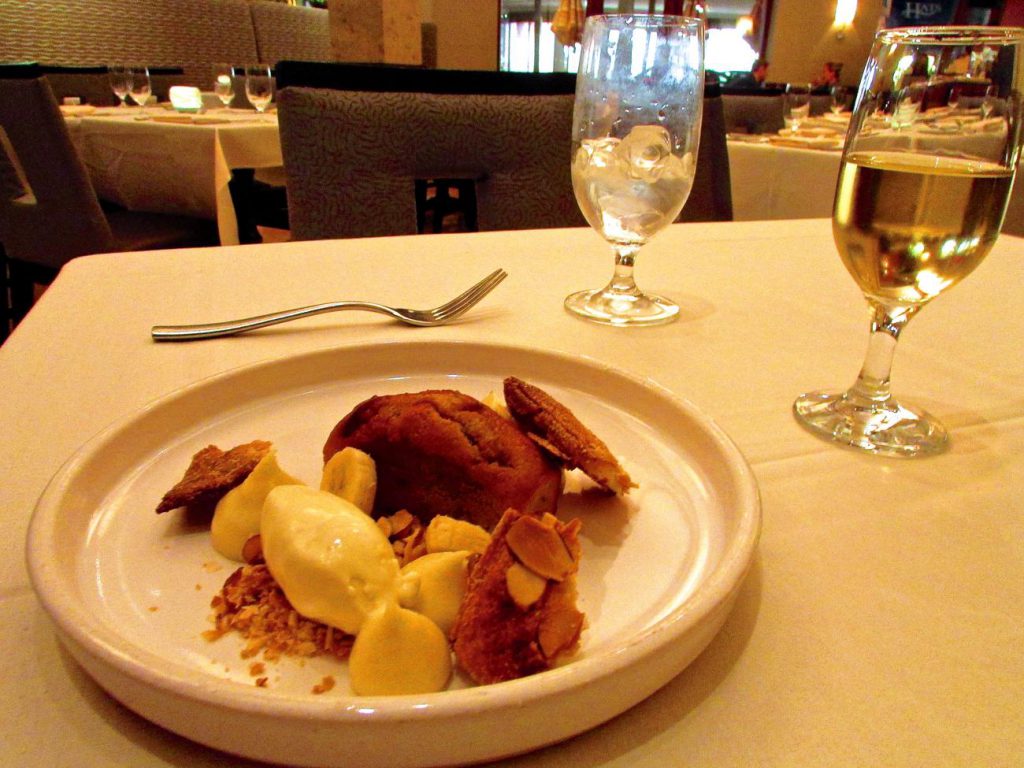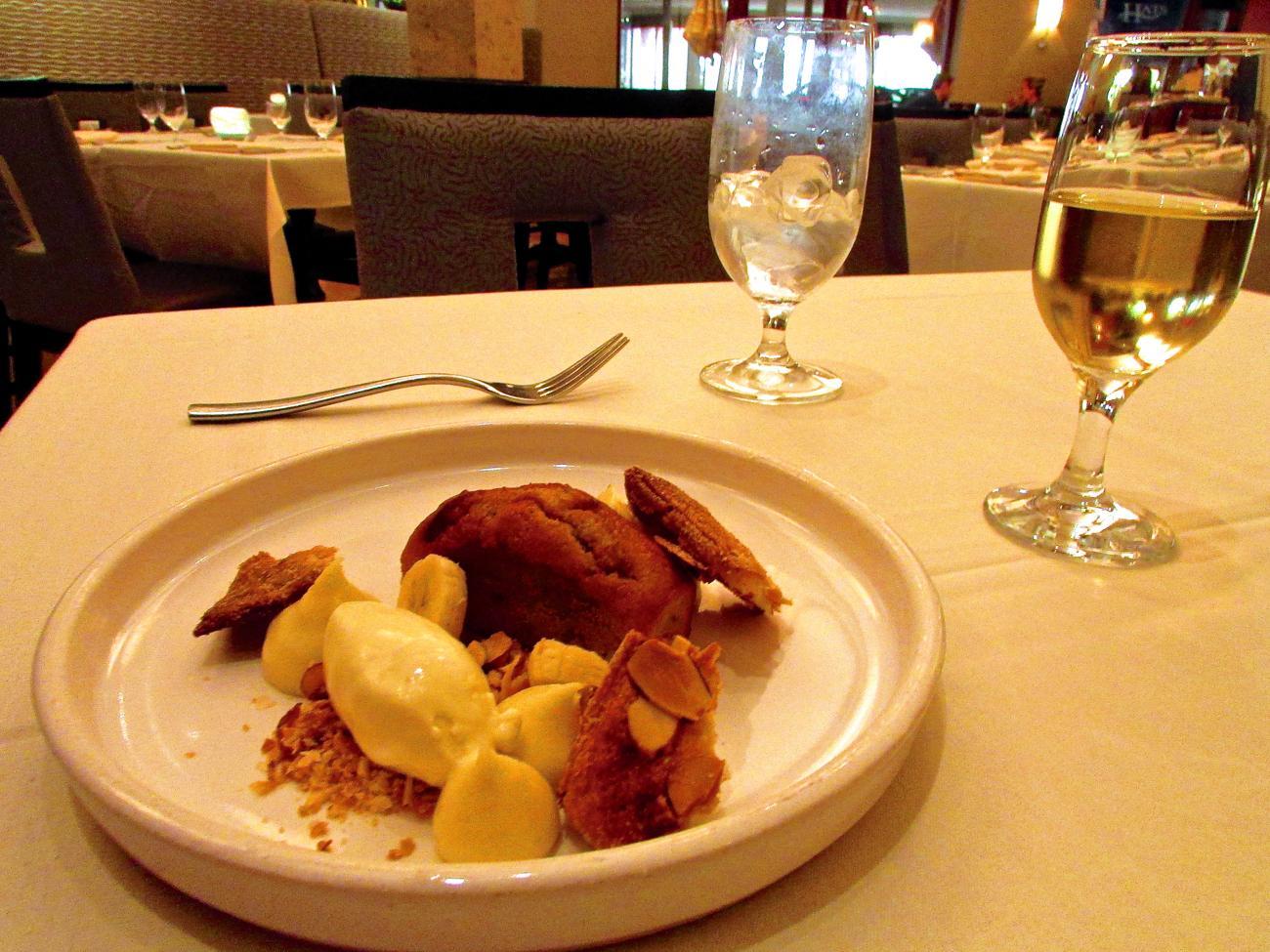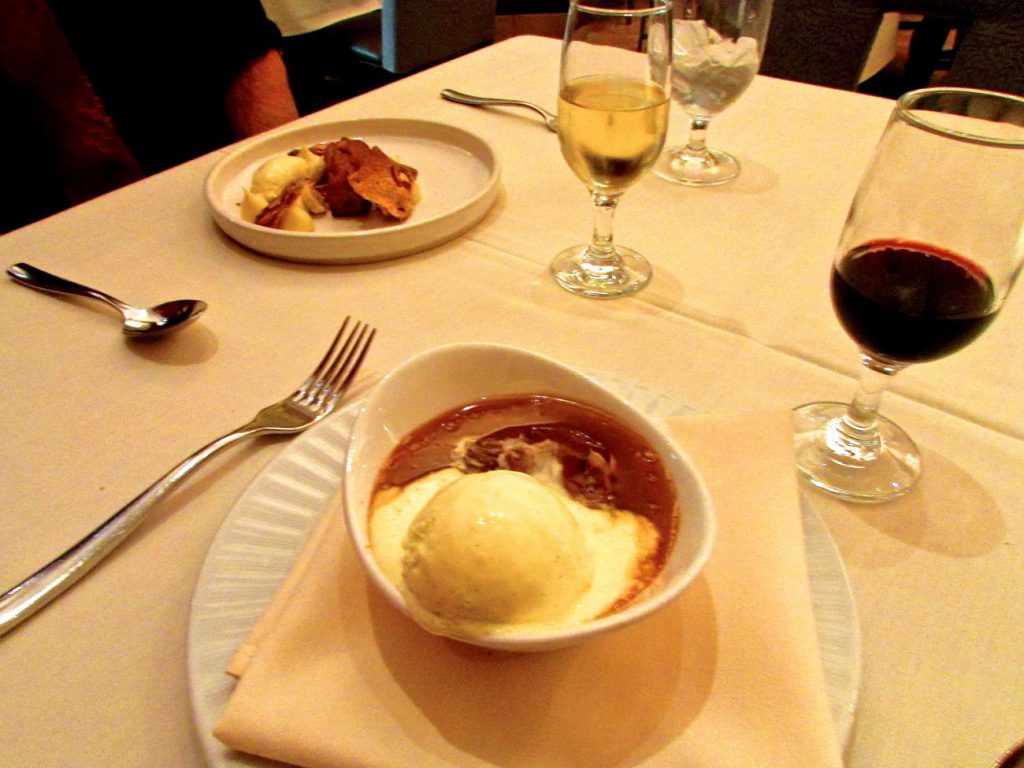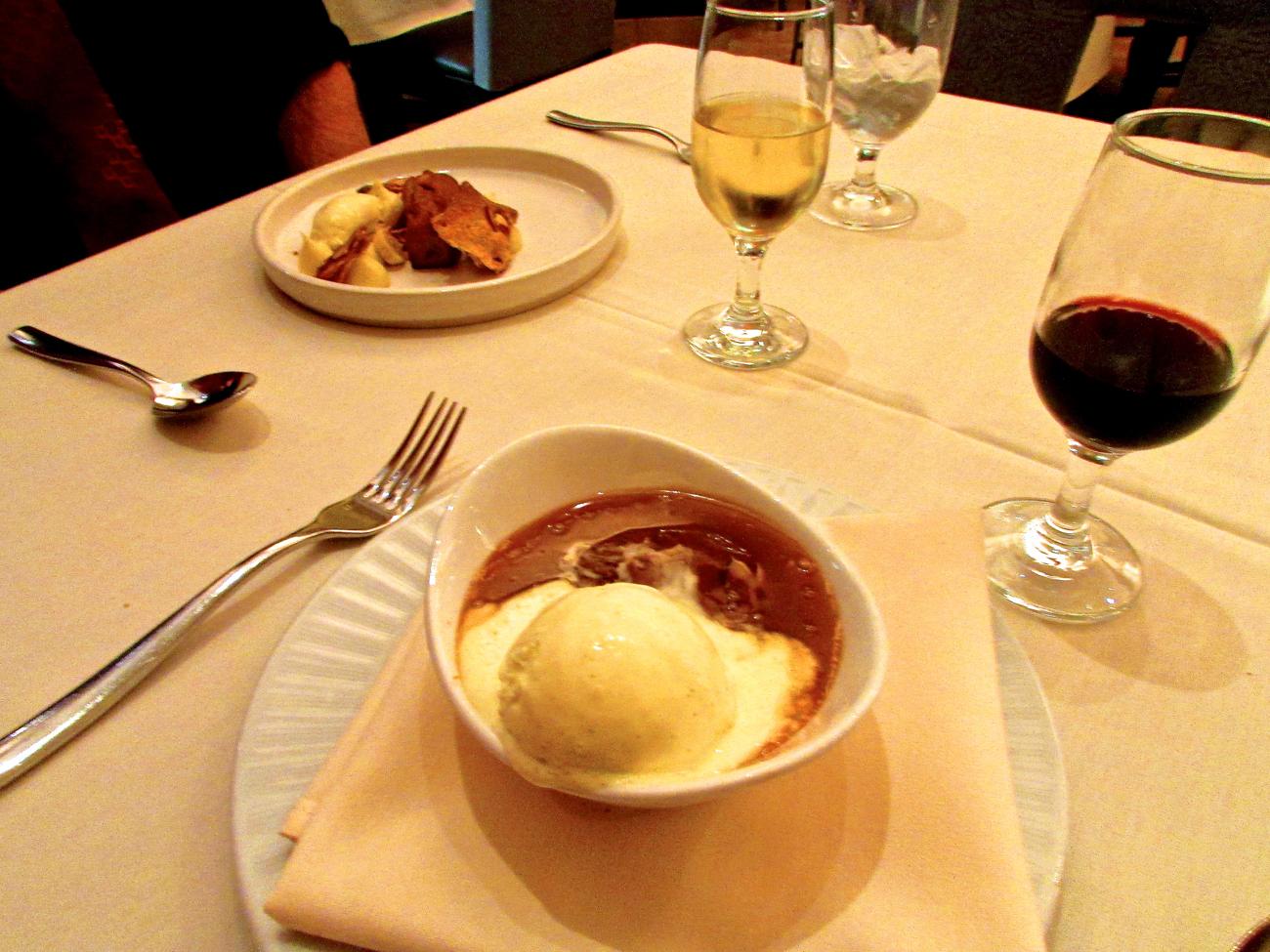 Half-baked chocolate cake:
Monsieur French said, "If either of you are a chocolate lover, you'll want to order the half-baked chocolate cake". As someone who'd happily eat 70% dark Godiva everyday until the end of time, it was an easy selection. You had the option of selecting whipped cream or ice cream atop the cake; Monsieur French said ice cream, no question. I saw why. When placed in front of me, the cake was still incredibly hot from baking, the layer of caramel a molten liquid on top of it. The small scoop of vanilla was placed on top and continuously, slowly melted into the caramel. The whipped cream would've been a puddle before you could say "Wow". The chocolate cake was less sweet than I imagined it would be, the high sweetness levels of the caramel and ice cream falling into each bite taken away to make up for it.
Although I did enjoy the half-baked cake, what swept me off my feet was its wine pairing. The 2012 Banyuls M. Chapoutier. It was a deep garnet red with an aroma of fruits and pepper and taste of rich plum and dark chocolate, a perfect dessert wine for someone who enjoys their reds sweet.
Overall Review & Conclusion
The meal was a definite, overwhelming success. From the light yet poppy music playing throughout to the well-thought out lighting (dim enough to set a mood, but not so dim you had to squint to see a plate's contents), Nine-Ten has honed the ultimate dining atmosphere.
If I were to go back, which I'm sure to do, the two items I'd make sure to have again would be the Maine Sea Scallops and the Banyuls M. Chapoutier dessert wine. My date had no doubt that he would return to try the Jamaican Jerk Pork Belly again.
Planning what evening to try this cuisine for yourself? Give Nine-Ten a ring at 858-964-5400 to make reservations.