Road Trip from San Diego to Salt Lake City: Top Spots to See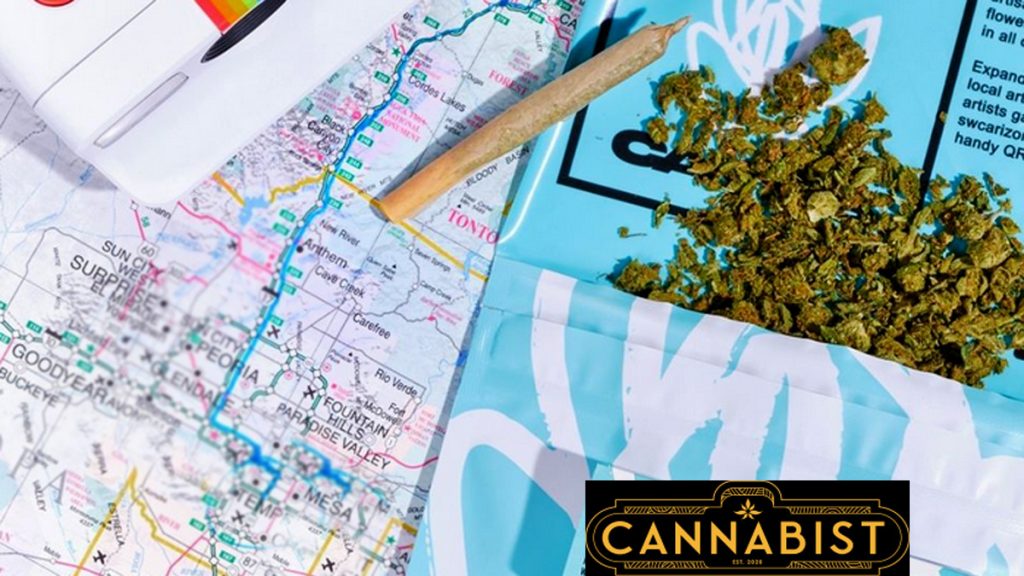 This post is part of our Best Dispensaries in Utah series, brought to you by Cannabist Utah.
When you want to get a taste of everything the west has to offer, no journey covers as much diverse territory as a road trip from San Diego to Salt Lake City. Via I-15N, this classic route stretches approximately 750 miles with plenty of opportunities for sightseeing—such as Southern California's tantalizing coasts, expansive desert regions, restorative hot springs, dazzling city lights, and breathtaking mountainscapes.

Whether you want to take a refreshing break from the daily grind, discover hidden destinations, or explore national parks, this easy and affordable vacation has experiences that can cater to every type of traveler. Read on to discover what you can find along the way the next time you want to pack up the car and go.
Best Places to Visit on a Road Trip from San Diego to Salt Lake City
Before you hit the road, it's a good idea to explore all the attractions that sprinkle the San Diego-Salt Lake City route and see which best fit the tastes of you and any fellow travelers.
For example, if you want to see some of the best stargazing in the country—it's worth planning an overnight camping trip in Death Valley. Or, if you want to play a few tables or catch entertaining shows, a stop in Las Vegas is a must. Most of the Utah leg of the trip offers access to exceptional national parks that are home to vibrant wildflowers, mighty rivers, tranquil lakes, and colorful rocky landscapes.
Use the guide below to discover some of the most popular destinations along I-15N and start filling up your itinerary.
How Long is the Drive from San Diego to Salt Lake City?
With no breaks, a San Diego to Utah road trip can take about 11 hours to complete. But with so many enticing detours along the way, this experience can easily fill up a holiday weekend—or longer.
If you're looking to make a true vacation out of the journey, you could spend one or two days in the Temecula wine country or California desert, another day in Vegas, and a few days camping in Utah before you get to Salt Lake City.
Or for a shorter jaunt, you could leave early in the day and casually cruise through the scenic desert, spend the night in Las Vegas, and spend the next day sightseeing through Utah.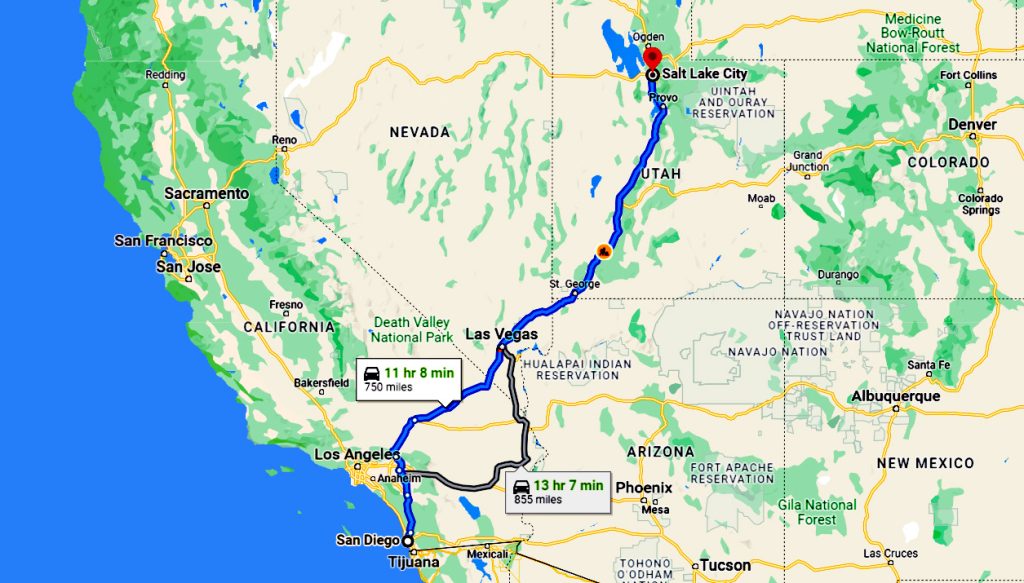 Where Should I Stop on a Road Trip From San Diego to SLC?
Temecula Wine Country
While only about an hour north of San Diego, the Temecula wine country can transport you to a completely different vibe than the SoCal coast. 
Temecula Valley boasts a calm climate, lush rolling hills, and fertile soil—a combination of factors that are ideal for wine production. In fact, the area is home to about 50 wineries, many of which provide resort accommodations so you can taste wine and be pampered. If you're a wine aficionado, be sure to try some of the region's best offerings—such as Montepulciano, Sangiovese, Syrah, Tempranillo, and Zinfandel varieties.
When you're not indulging in vino, Temecula also offers many attractive golf courses and plenty of cultural events throughout the year—including the Balloon and Wine Festival, Bluegrass Festival, Greek Festival, and Street Painting Festival.
Joshua Tree National Park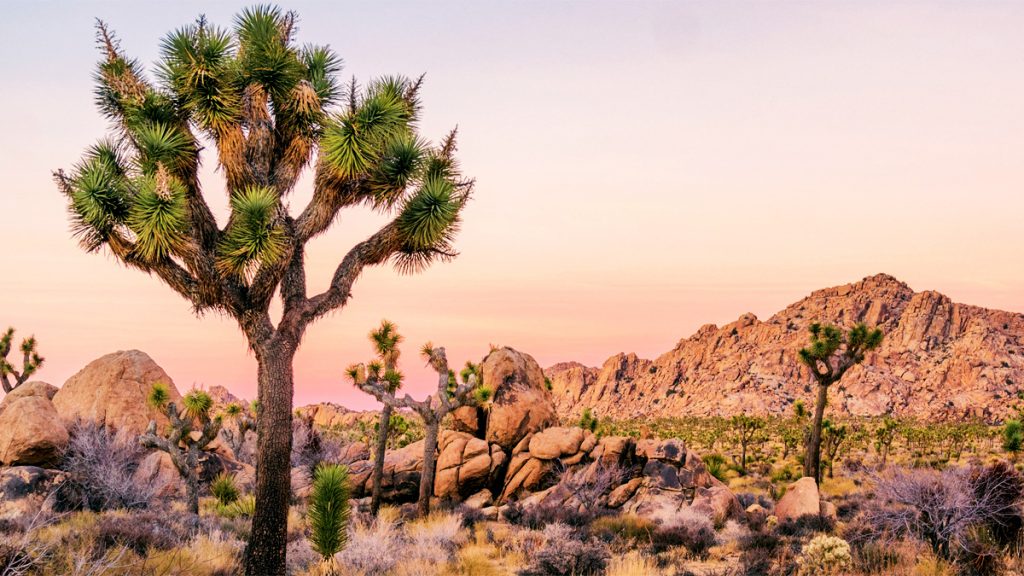 After you pass through Temecula, you have the option to take a detour to the one-of-a-kind Joshua Tree National Park. Travel an hour or so inland, and you'll reach this desert landscape that's populated with massive boulders and Joshua trees—a distinctively shaped yucca plant.
While you can certainly get a few great snapshots by driving through the area, it's worth planning a camping trip in the park. Spanning approximately 80,000 acres, Joshua Tree National Park offers beautiful hiking trails that you can explore during the day to take in the diverse wildlife. At night, you can bundle up under the starry sky—a truly unique experience, as the park has very little light pollution.
If you go to Joshua Tree, be sure to stop into Palm Springs to take in world-class restaurants, mid-century design, golfing, and an overall relaxing desert community.
Death Valley National Park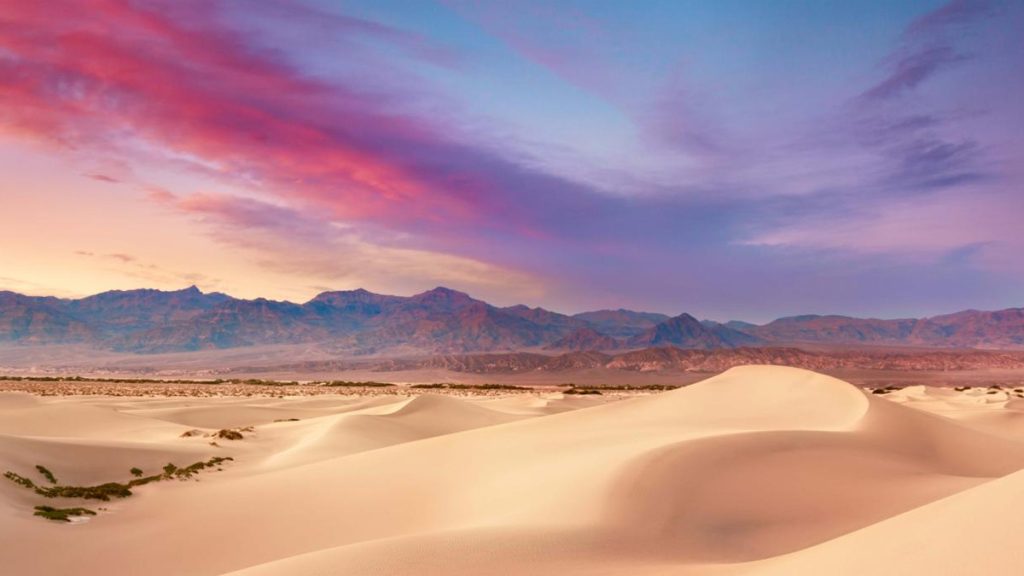 Despite its unwelcoming name, Death Valley National Park is one of California's most unique tourist destinations. Positioned at the lowest point in North America, Death Valley offers about 3 million acres of uncanny landscapes.
Depending on where you go, you can see spectacularly shaped sand dunes, hot springs, rocky surfaces, and vibrant wildflowers. Artists Drive is one amazing site that showcases eroded hills that have come multicolored due to oxidation. Another spot worth exploring is the Ubehebe Crater—a massive remnant of a volcanic explosion.
If you want to camp, Death Valley offers lots of sites. This is a great idea if you want to see some of the best views of the Milky Way, as the area has some of the least light pollution in the country. However, it's often recommended to plan these trips in the cooler parts of the year. In the summer, Death Valley is known to reach up to 130 degrees or higher during the day.
Las Vegas
At about a 5-hour drive from San Diego, Las Vegas is a great midway stopping point to consider on your CA to Utah road trip. In Sin City, you can stretch your legs along the Las Vegas Strip, gamble at one of many casinos, indulge in five-star restaurants, take in a star-studded show, and sit poolside at one of many resorts.
If you're going on a family trip, Vegas also offers many kid-friendly attractions—such as the Discovery Children's Museum, the High Roller Observation Wheel, ziplining at Fremont Street, the Mandalay Bay aquarium, and the Big Apple Coaster at New York-New York.
Valley of Fire State Park
Located in the Nevada's Mojave Desert, the Valley of Fire State Park gets its name from its fire-red sandstone rock formations. Take a hike on one of many trails in the park to see these landscapes glow under the sun, explore the White Domes, or spot Bighorn sheep in their natural habitat. You can even take a leap back in time and see ancient petroglyphs that the Ancestral Puebloans carved into rock formations nearly 2500 years ago.
Angels Landing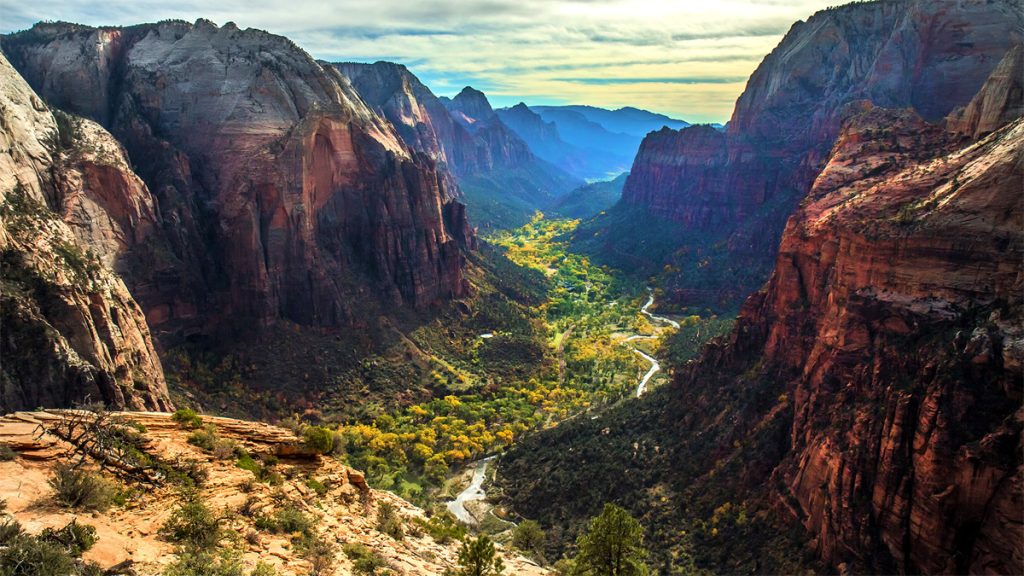 If you don't mind heights and enjoy a lengthy, challenging hike, consider trekking up Angels Landing at Zion National Park in southwest Utah. Surrounded by steep red cliffs, Angels Landing is a fin-like rock formation that offers stunning views at every point along the trail.
Since the trail has become a top destination for travelers, the National Park Service now requires hikers to have a permit before they hike. These permits are typically awarded by lottery through the NPS.
The Narrows
Located in Zion National Park's backcountry, the Narrows is a strenuous day hike that takes you through the slimmest section of Zion Canyon. Carved out by the Virgin River, this full trail will involve wading through fluctuating water levels—so it's important to be prepared to get wet and wear proper shoes. If you want to see the Narrows without taking the hike, follow the paved one-mile path at Riverside Walk from the Temple of Sinawava.
Cedar Breaks National Monument
When you get to Cedar City on your San Diego to Utah road trip, consider visiting the Cedar Breaks National Monument. Carved out by erosion, this destination features a gigantic geologic amphitheater that spans 3 miles. The top of the monument looks down into the amphitheater at 10,000 feet above sea level.
Hiking around this area, you may see bristlecone pines, eye-popping wildflower meadows in spring, snow-covered cliffs in winter, and plenty of high-altitude forest creatures—such as marmots, porcupines, mule deer, and pocket gophers.
Bryce Canyon National Park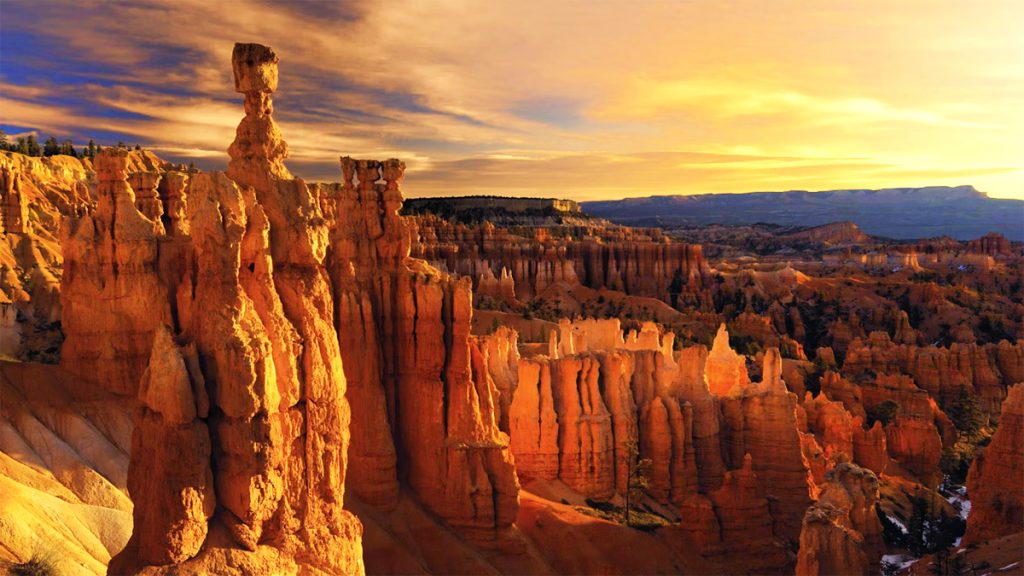 Bryce Canyon National Park hosts the world's largest concentration of jagged columns of rock known as Hoodoos. These natural wonders create distinctive silhouettes against the rocky canyon landscape. Full of amazing hiking trails, Bryce Canyon National Park will also provide you with many amazing views of naturally-carved arches in rock formations and open skies.
Utah Lake State Park
If the deserts of California, Nevada, and Utah have you feeling a little dry, be sure to drive to Utah Lake State Park at the tail-end of your road trip from San Diego to Salt Lake City.
Utah Lake is the state's largest freshwater lake and is surrounded by the Utah Valley near Provo. This shallow lake is a popular place for all types of activities—such as boating, camping, picnicking, fishing, canoeing, water sports, and wildlife viewing.
Things to Do Around Utah Lake State Park
When you're visiting Utah Lake State Park, it's worth spending some time in the nearby Provo metropolitan area. Home to Brigham Young University, this college city offers many mind-expanding attractions—such as the Bean Life Science Museum, BYU Museum of Paleontology, Springville Museum of Art, Provo Pioneer Village, and the BYU Museum of Peoples and Culture.
There are also plenty of non-academic activities to delight in throughout the area. For example, you could plan a rafting tour down Provo River, go on a ghost tour, take a trolley ride, eat diverse cuisine in Downtown Provo, walk through Scera Park in Orem, or delight in top-tier cannabis products at Cannabist in Springville, UT.
What to Do When You Get to Salt Lake City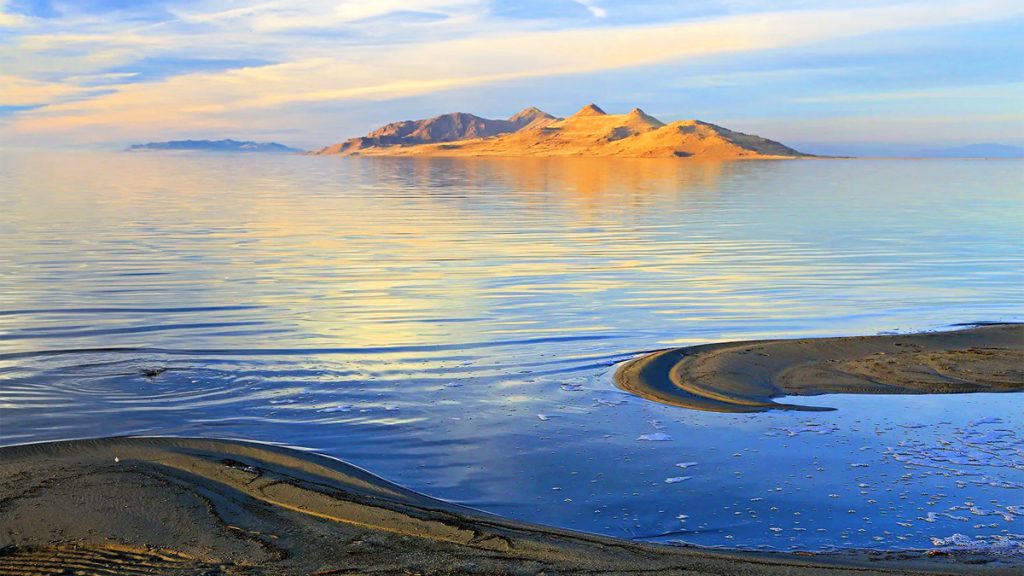 Once you reach your final destination of Salt Lake City, your itinerary options are endless. As the capital of Utah, Salt Lake City is rich with metropolitan offerings—including elevated dining, local craft breweries, historic architecture, premier shopping, and illuminating museums.
Visitors and locals alike will find themselves exploring the iconic Mormon Temple, seeing dinosaur fossils at the Natural History Museum of Utah, listening to the melodies of the Tabernacle Choir, having a relaxing picnic at Liberty Park, perusing shops at City Creek Center, and experiencing more than 800 animals at Hogle Zoo.
The city is a stone's throw from numerous outdoor attractions. If you visit in the winter, you might enjoy skiing the slopes at resorts in Park City or Deer Valley. If you visit in warmer weather, take a hike through Big Cotton Canyon for impressively green forest views.
And of course, no trip is complete without spending some time at the Great Salt Lake where you can swim, boat, and fish in a saltwater lake. With such a high concentration of salt, the lake water is incredibly buoyant, allowing swimmers to float with ease.
Best Time To Go On the San Diego to Salt Lake City Road Trip
The best time to take a road trip to Utah from California ultimately depends on what you want to see and do. Spring and early fall are all ideal times if you want to go camping or hiking without too much uncomfortable weather—especially in the desert. However, summer is the perfect season for those who want to spend time swimming or boating at lakes. And if your goal is to see snowy landscapes or enjoy world-class skiing, then the best time to plan a trip is in the winter.
Final Thoughts on Road Tripping From San Diego to Salt Lake City
There's so much to see and do on a San Diego to Utah road trip, so don't get overwhelmed by all the options. Instead, take it slow and be sure to mix up the sights so you can enjoy a balanced itinerary of natural sightseeing, memorable camping, exceptional dining, and cultural exploration. And of course, we would never advise using while driving, but when you get there, you can always enhance your trip by checking out some of the best dispensaries in SLC while you're there.
Whatever time of the year you plan your trip, be sure to fully research the weather conditions at each stop along the way. Many of these locations have climates that change rapidly in a 24-hour period, so you'll want to be prepared and have plenty of clothing options to keep you comfortable. For example, desert areas can be painstakingly hot during the day (even in winter) but freezing cold at night.
Finally, much of the I-15N route is well-maintained and made for easy driving. However, you'll still want to have safety on your mind along the way. In particular, it's important to understand that desert areas and remote regions may be far from immediate help if you experience car troubles. That's why it's essential to pack up a fully-stocked first aid kit, extra drinking water, non-perishable food, emergency blankets, and emergency road gear—such as a flashlight, jumper cables, portable battery, road flares, a jack, and a spare tire.