14 Top Rated Dispensaries in California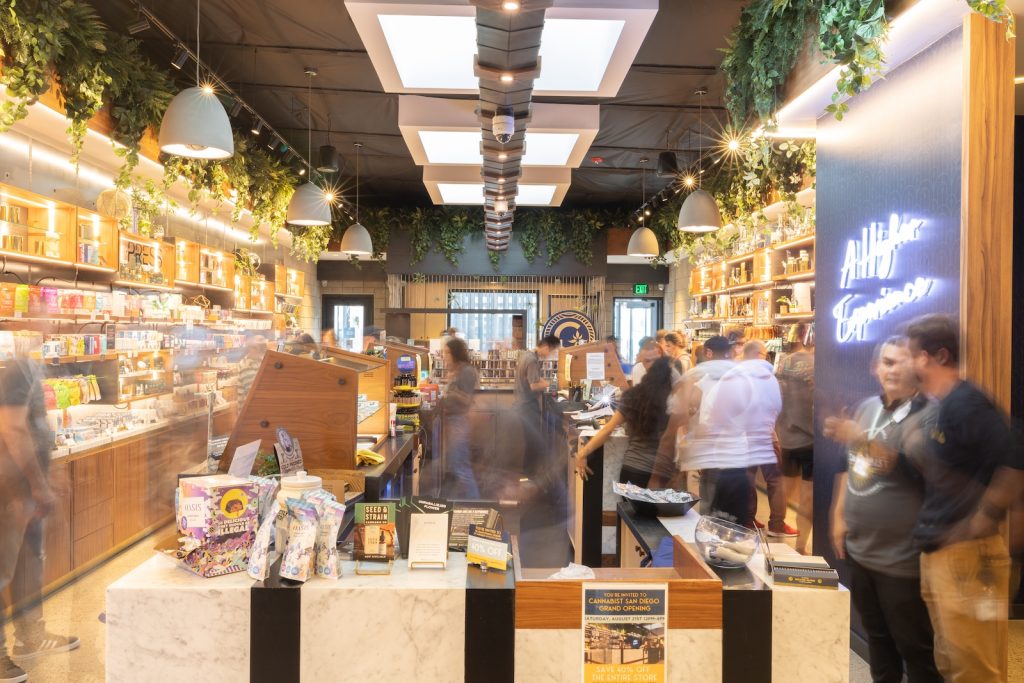 The dispensary in the above photo is Cannabist San Diego, 4565 De Soto St. Their motto is "A Higher Experience," and their parent company also owns Project Cannabis in Los Angeles and San Francisco.
California is frequently referred to as the cannabis capital of the world. In fact, with over $5 billion in sales in 2021, The Golden State is recognized as the largest marijuana market across the globe. But while it's obvious that the west coast has an abundance of the green stuff, many cannabis connoisseurs alike: Where is the best weed in California?
The answer to that question isn't easy. The number of dispensaries is large and the available product lines are plentiful—and ever-growing. Fortunately, the cannabis community is highly active, welcoming reviews of California weed companies from enthusiasts and newcomers alike.
Using insights from consumers, we've curated this list of the best dispensaries in California. Whether you're looking for bud, weed pens, vape cartridges, oils, resins, edibles, or tinctures this guide will point you in the right direction. 
Recreational marijuana use has only been legal in California since 2018, but in that short time, the market has exploded to produce an endless variety of options for consumers.
This boom has allowed cannabis dispensaries to pop up in every area, making it incredibly convenient to find a good shop wherever you are. To help simplify your search for the high-rated dispensaries in California, our list is broken down by city.
Best Dispensaries in California
If you're searching for the best kush in the state, you need to know where to go, right? With this in mind, we've curated a list of the very best dispensaries in California. These selections are based on customer feedback, consumer rank, cleanliness, product diversity, customer service, – and of course – A+ cannabis products!!
Best Weed in San Diego
San Diego is known for its stellar beaches, wicked-awesome entertainment and world-class dining. It's also known for outstanding dispensaries. Here are a few dispensaries in San Diego that got top marks on our "must shop" list.
Cannabist in San Diego
Cannabist isn't just a top dispensary brand in California, as the company is established in many US markets—including Arizona, Florida, Massachusetts, New Mexico, and New York. With such a large footprint, Cannabist has achieved a deep understanding of the industry and how to best serve customers.
Adopting the mission to deliver "A Higher Experience," Cannabist San Diego offers a wide range of high-caliber products in all popular forms. The company is also recognized as a 2022 "Best Cannabis Company to Work For," which attracts some of the most talented professionals in the industry. This expertise goes a long way in helping patrons find the right products for specific needs, expand their cannabis possibilities, and discover more about marijuana benefits.
Customers also love the San Diego location for its constant promotions. Every day, this dispensary offers competitive daily deals, such as their storewide "Buy Two, Get One for $1" special on Tuesdays. And if you frequent the shop, you can earn points through their rewards program that will help you save on future purchases.
Address: 4645 De Soto St., San Diego, 92109
Phone: (858) 324-5130
Hours: Mon – Fri 7 a.m. – 9 p.m.
Sat – Sun: 8 a.m. – 9 p.m.
Mankind
If you're a curious window-shopper, Mankind is a place to visit. As a dispensary in Cali that's focused on transparency, this shop makes all its products accessible to visitors. That means you can inspect and smell everything to ensure you're getting the goods that you really like.
In addition to offering informed guidance for your shopping experience, Mankind is respected for their convenient curbside pick-up and delivery options. However, on Yelp, some customers note the deals are misleading and the prices are too high.
Address: 7128 Miramar Rd. #10, San Diego, 92121
Phone: (855) 626-5463
Hours: Mon – Sun 7 a.m. – 9 p.m.
The Healing Center San Diego Dispensary
The Healing Center San Diego Dispensary is known for its personalized customer experience that aims to connect cannabis with bettering the body. Whether you're looking for something to help you sleep or want to minimize chronic pain, this team of budtenders will guide you to the best products for long-term wellness. And when you shop, you can also feel good knowing that many profits are redirected to support causes in the local community.
Through a combination of exceptional service and attractive promotions, THCSD earned a good number of regulars after opening. However, many customers note that customer service has declined and the availability of some products has become unreliable.
Address: 3703 Camino del Rio S, San Diego, CA 92108
Phone: (858) 324-2420
Hours: Mon – Sun 7 a.m. – 9 p.m.
Best Weed Dispensaries in Los Angeles
Bright lights, movie stars, and big glamor – LA is the place to be. It's also the place to shop for superior weed. Here are a few of the best weed dispensaries in LA that you've got to try.
Project Cannabis of Los Angeles
In addition to offering a line of award-winning cannabis products, Project Cannabis (or ProjCan) also goes the distance when serving its customers. They have a frequent buyer club, discounts to users who order from smartphone apps, and they even offer pick-up and delivery services.
Project Cannabis is a unique dispensary in that they have their own in-house growing operation. This allows them to cultivate superior bud within a controlled growing environment. That means you're getting the best strains and highest quality for a mind-blowing high.
Along with sublime smokeables, ProjCan also stocks edibles, topicals and other weed-centric merchandise such as pipes and vaporizers. Take advantage of their daily discount specials by stopping by and talking to one of their incredibly helpful representatives today.
Address: 1555 Newton St, Los Angeles, CA 90021
Phone: (213) 493-4500
Hours: Mon – Sun 11:30 a.m. – 6:30 p.m.
Dr. Greenthumb's Cannabis Dispensary
Since opening in 2018, Dr. Greenthumb's has made its mark in LA by not only offering top-of-the-line cannabis products but also creating a brand that unites marijuana with culture. For many, this connection makes shopping for cannabis more fun. It's also made Dr. Greenthumb's a hot spot for cultural events and celebrity sightings—including Snoop Dogg.
Now operating several weed stores in California, Dr. Greenthumb's is known for providing plenty of quality options at competitive prices. The LAX dispensary is also conveniently located for travelers who want to pick up their weed soon after arriving at the airport. But if you're a LA local who doesn't live near El Segundo, getting to the LAX location may sometimes feel like more trouble than it's worth.
Address: 5494 W. Centinela Ave., Los Angeles, CA 90045
Phone: (424) 329-8778
Hours: Mon – Sun 6 a.m. – 10 p.m.
Herbarium Weed Dispensary Los Angeles Marijuana
In a world of corporate-owned weed brands, Herbarium is a breath of fresh air. Customers appreciate this family- and minority-owned LA dispensary for its commitment to education and social justice efforts. The brand also takes a clean and modern approach that makes it easy to navigate complex cannabis offerings.
Despite these perks, online reviews urge new customers to stay aware. Many note that their charges weren't accurate and deals can be confusing. Others also warn that the store tends to close earlier than advertised.
Address: 979 N La Brea Ave., Los Angeles, CA 90038
Phone: (323) 447-2037
Hours: Mon – Sun 10 a.m. – 10 p.m.
Best Weed Dispensaries in San Francisco
There's no doubt that San Fran has a special kind of charm for both locals and tourists alike. San Francisco dispensaries are also a big draw for all types of consumers. Check out these SF dispensaries that made high-billing in our weed dispensaries in California research.
Project Cannabis of San Francisco
SOMA proud, this dispensary in San Francisco is committed to providing San Franciscans the ultimate experience with finely crafted and in-house grown cannabis strains. In fact, their devotion to cultivating and providing top-notch cannabis-based products has won them the enviable title of the best dispensary in the bay area.
ProjCan SF has an amazing array of products too. From yummy edibles, sticky flower, vapes, CBD, and more – you won't find such an impressive selection any place else. Drop by and talk to one of their knowledgeable and friendly attendants. You'll quickly discover that ProjCan of San Francisco is a superior choice and they are dedicated to meeting your personal, physical and emotional needs with their award-winning cannabis products.
Address: 761 Bryant St, San Francisco, CA 94107
Phone: (628) 333-6159
Hours: Mon – Sun 8 a.m. – 9 p.m.
Barbary Coast Dispensary
Barbary Coast started as a medical marijuana dispensary in California and has since grown to serve both medicinal and recreational customers. As a more mature dispensary, Barbary Coast is often where locals direct visitors who want to know where is the best weed in California.
The brand's established presence is instantly recognized by their welcoming storefront and lounge, knowledgeable staff, and diverse selection of equity brands—products that are committed to decriminalizing cannabis.
Although the company boasts a 4.8-star rating on Google, some regular customers have complained that the service has shifted from "friendly" to "rude" in recent years. Others complain that you can find better prices elsewhere.
Address: 952 Mission St., San Francisco, CA 94103
Phone: (415) 243-4400
Hours: Mon – Sun 8 a.m. – 9:30 p.m.
Bloom Room Cannabis Dispensary
Bloom Room Cannabis Dispensary knows there is an overwhelming amount of marijuana goods to choose from. That's why the store is committed to being a "purveyor of fine cannabis." As a result of this mission, the Bloom Room team constantly scours the market to stock products that are properly grown, potent, and rich in quality.
And while they deliver the best there is, they strive to keep the costs as low as possible. Bloom Room also has deals every day. The only trouble is that many of these deals are limited to a few specific brands, which can stifle your shopping options if you want to save.
Address: 471 Jessie St., San Francisco, CA 94103
Phone: (415) 543-7666
Hours: Mon – Sun 11 a.m. – 8 p.m.
Best Weed Dispensary in Santa Ana
This California city is a mecca for artists, surfers and history buffs. If you live, work, or play in Santa Ana, you've got to try one (or all) of these dispensaries after a day of shopping, creating, or chilling at Laguna Beach.
From The Earth Santa Ana
From the Earth's Santa Ana dispensary is in a discrete location with minimal signage, but once you're inside you can appreciate the colorful vibe of the store and its staff. From the Earth is primarily recognized as one of the best dispensaries in California thanks to its knowledgeable and efficient team. In particular, reviewers celebrate the kind way the budtenders help those new to the world of marijuana.
Still, the shop has garnered a few complaints due to inconsistent messaging about deals. Some other customers aren't fond of the dispensary's approach to service, as they call shoppers up individually to provide direct assistance.
Address: 3023 S. Orange Ave., Santa Ana, CA 92707
Phone: (657) 444-7336
Hours: Mon – Sun 7 a.m. – 10 p.m.
Best Weed Dispensaries in Stockton
Centrally located, and a quick trip from San Jose, San Fran, or Sacramento – Stockton has loads to offer. From it's creative art scene to its diverse cultures, you've got to make a day and head out to Stockton. While you're there, check out these outstanding dispensaries in Stockton!
Vibe by California
Vibe by California isn't just the name of the brand—it's the heart of the shop. The company, now operating many locations throughout the state, is proud to have a staff that serves up warm vibes and a welcoming experience.
They're also recognized as one of the fastest-growing California dispensaries due to their ability to scale and do so while keeping prices low. Part of this success comes from Vibe's vertical integration with Hype cannabis products. By maintaining the production for most of their inventory, Vibe can assure quality and keep costs down for customers. But if you're looking to explore other brands, many customers say that sometimes favorite products aren't always in stock.
Address: 1550 W. Fremont St. Ste 100, Stockton, CA 95203
Phone: (209) 636-2307
Hours: Mon – Sun 9 a.m. – 8 p.m.
Coastal Dispensary Stockton
The bright yellow imagery of Coastal's brand is a testament to how vibrant and warm this dispensary is. Since their grand opening in 2021, Coastal Dispensary Stockton has exceeded expectations with a finessed team of budtenders and an ample selection of premium, fairly-priced products. But as a newer dispensary, time will only tell if Coastal Stockton will continue to stand up to the competition.
While Coastal offers all standard forms of cannabis goods, they are also unique in that they stock a decent inventory of marijuana topicals. Many celebrate these powerful ointments as a way to target pain and ease stress.
Address: 7840 West Ln. Unit F, Stockton, CA 95210
Phone: (209) 762-3909
Hours: Mon – Sun 7 a.m. – 8 p.m.
Best Weed Dispensary in Modesto
Modesto is home to one of the largest and most respected wineries in the entire world. It's also an incredibly killer place to score the best kush. Don't take our word for it, check out these dispensaries in Modesto that made the top grade on our list.
Phenos Cannabis Dispensary
Phenos Cannabis Dispensary in Modesto is the type of weed shop that seasoned marijuana users love. Mainly, Google reviewers prize this establishment for being fully stocked with quality products and providing fast, easy service.
Newcomers, however, may want to start elsewhere as some budtenders have been reported to be less than knowledgeable about the store's products. Phenos also currently operates its main website through Weedmaps, which makes it challenging to get direct updates about the shop and the deals they're offering.
Address: 1234 McHenry Ave. Suite C, Stockton, CA 95350
Phone: (209) 238-9100
Hours: Mon – Sat 9 a.m. – 9:30 p.m.
Sun: 9 a.m. – 9:00 p.m.
Best Weed Dispensaries in San Jose
Even if you don't know the way to San Jose, you've got to make your way to one or all of these dispensaries in this beautiful city in California. You'll swoon over high-quality products, and super-posh dispensaries situated in San Jose, the capital of Silicon Valley.
Caliva
Caliva is often recognized for the premium cannabis products they produce but many may be surprised by their high-quality dispensaries as well, including their San Jose location. In addition to retailing their in-house products, Caliva stocks many popular cannabis brands—such as Fun Uncle, STIIIZY, Kiva, and Heavy Hitters.
The shop is also recognized for their expansive customer resources—such as their Caliva Club rewards program, virtual consultations, referral bonuses, and daily deals. Keep in mind that some customers haven't had the best experiences with the fast-growing brand. Yelp reviews cite issues with order accuracy, pricing issues, and customer service accessibility.
Address: 1695 S 7th St., San Jose, CA 95112
Phone: (888) 688-0303
Hours: Mon – Sun 9 a.m. – 9 p.m.
Haze Dispensary
Stocking hundreds of products from various brands, Haze Dispensary certainly has the cannabis goods you want—plenty more to expand your horizons. They even offer clones if you're interested in growing cannabis yourself.
In terms of savings, Haze Dispensary provides a good assortment of daily specials, weekly deals, and monthly events. Regulars can also earn points to save on future purchases through the Haze Rewards.
Haze certainly gains customer approval for its reliability, but newbies should note that the website and store are somewhat barebones which may make a first-time experience a little overwhelming.
Address: 1761 Smith Ave., San Jose, CA 95112
Phone: (408) 266-4293
Hours: Mon – Sun 9 a.m. – 9 p.m.
Best Weed Dispensary in Antioch
Hailed as the gateway of the California Delta, Antioch is also a gateway for tremendously fine weed. Here are the best dispensary in Antioch that earned top stars on our list.
Lemonnade Antioch Dispensary
Lemonnade in Antioch stocks many of the familiar, bigger brands in cannabis. However, they also have many product lines that seasoned cannabis consumers may not be familiar with—such as BackPackBoyz, Aqua de Flor, Cookies, Oakfruitland, and their in-house Lemonnade goods.
It's hard to beat the 4.9-star rating on Google Reviews with many positive reviews citing excellent service. At the same time, some may find the charges excessive due to Antioch's tax rates.
Address: 2625 Crow Ct., Antioch, CA 94509
Phone: (925) 281-7035
Hours: Mon – Sun 8 a.m. – 8 p.m.
Best Weed Dispensary in San Leandro
Tucked into the East Bay, San Leandro is famous for its colorful neighborhoods and explosive cherry blossom season. That's not all that's blooming in SL. Check out this San Leandro dispensary serving up great bud.
NUG Wellness
NUG Wellness is a vertically-integrated cannabis company in California that is highly regarded for their products that are sourced from state-of-the-art facilities. The quality of their flower, edibles, concentrates, and other products is defined by the many awards the brand has received at HighTimes Cannabis Cup Norcal, Hempcon, and the Emerald Cup.
NUG products are notably refined and handcrafted but the prices are competitive, making it a perfect spot for East Bay cannabis consumers to shop. Regulars keep coming back to shop for the staff's laidback, yet insightful approach to service, as well as the plentiful promotions. It's worth noting that the very few negative reviews are mostly centered on issues with online orders and early closing times.
Address: 3089 Teagarden St., San Leandro, CA 94577
Phone: (925) 281-7035
Hours: Mon – Sun 8 a.m. – 8 p.m.
Conclusion
When enjoying cannabis in the Golden State, there's no need to rush or shop impulsively. With plenty of amazing dispensaries to visit, you might find yourself no longer wondering: Where is the best weed in California? Instead, you could start wondering where your next marijuana shopping adventure will take you. Many of these dispensaries offer discounts, including senior or teacher discounts – so be sure to check on money-saving deals before you go.
But wherever you shop, always make sure to use cannabis responsibly and respect your limits. And if you're curious about something, never hesitate to talk with your local budtender—they may very well be one of the most informed cannabis professionals in the country!