Celebrate Pride at the June First Friday Art Walk in La Jolla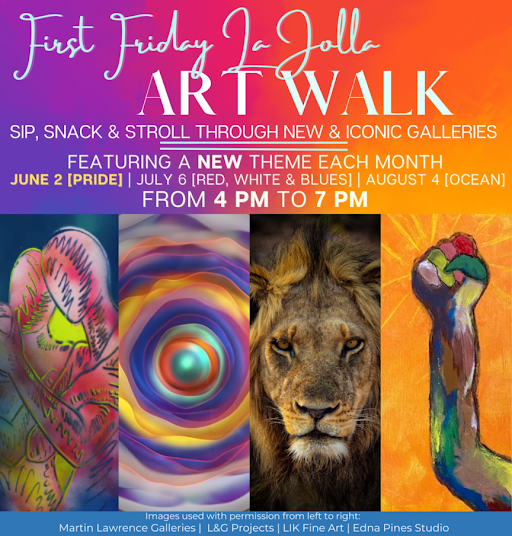 The La Jolla First Friday Art Walk returns on June 3, bringing community members, art galleries, and businesses together to celebrate the idea of Pride.
Every first Friday of the month, the La Jolla community puts together an amazing opportunity to sip, snack, and stroll through some of the finest art galleries in San Diego's jewel.
There's a new theme each month. Because June is LGBTQIA+ Pride Month, the theme for this month's First Friday Art Walk is "pride" — and businesses across La Jolla will celebrate that theme with their own interpretations.
From 4 p.m. to 7 p.m., you'll be able to stroll through some of the must-see spots for art lovers in La Jolla. Additionally, you'll be able to enjoy light refreshments, free entertainment, and other amenities.
Some of the top-notch galleries participating in this month's First Friday Art Walk will include:
Art in Framing
BFree Studio
Contemporary Fine Arts Gallery
Edna Pines Studio
Klara Chavarria Art Gallery
Krista Schumacher Art Gallery
L&G Projects
Legends Gallery
Lik Fine Art
Mangelsen Images of Nature
Martin Lawrenece Galleries
Modernist Cuisine
Michael Seewald Gallery
National Gallery of Fine Art
The Shop La Jolla
Siler Fine Art Gallery
Simic Galleries
Sotheby's Int'l Real Estate
Thumbprint Gallery
Yiddishland California
If you need help navigating around some of the participating galleries and businesses around downtown La Jolla during the First Friday Art Walk, you can pick up a map from any of the locations in the list above. Better yet, the area also features some of the best shopping spots in La Jolla and world-class dining options.
Better yet, the First Friday Art Walk is completely free to attend. Attendees can also nab free all-day parking in a convenient parking garage provided by Ace.
You'll need to register for the event beforehand, which you can do at this link.