Your Complete San Francisco Dispensary Guide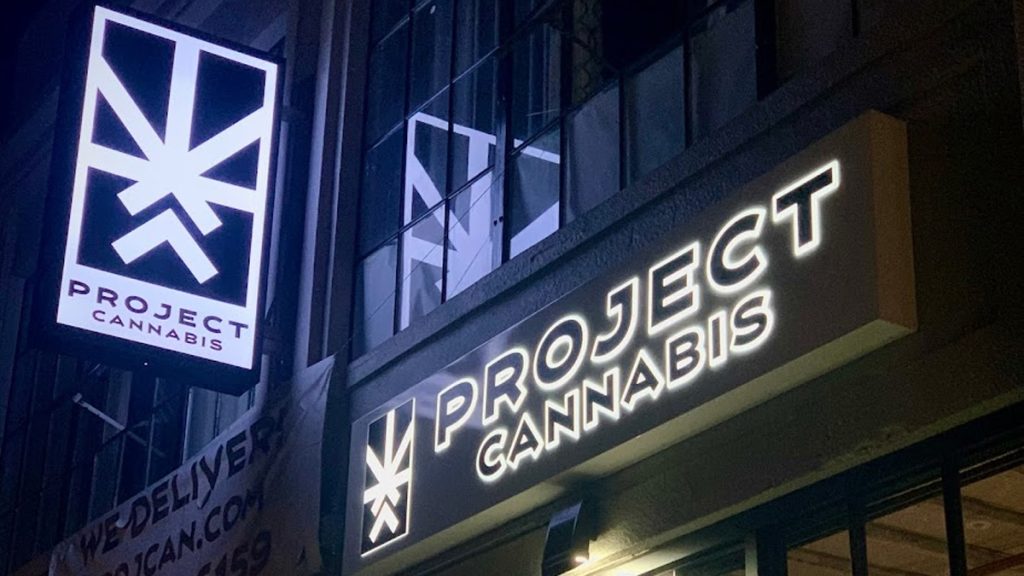 This post is part of our Best Dispensaries Around the Bay Area series, sponsored by Project Cannabis.
It has been over five years since cannabis was legalized in California, with much of the country speeding along to make it accessible medically, if not recreationally, as well. However, cannabis is a booming business, generating millions in sales, and many are eager to open a cannabis dispensary in San Francisco – or in other cities all across the West Coast.

With this meteoric rise in popularity, you can find dispensaries all over SF. From shops around Oracle Park to Bernal Heights, cannabis restaurants to lounges – you are sure to find the right dispensary in San Francisco that meets your needs. With that said, if you are looking for the best dispensary in San Francisco to suit your cannabis needs, then here are some that rise above the rest.
The Best Dispensaries in San Francisco
There are over two hundred dispensaries here in The Golden City. Many of them offer online shopping options for your convenience. This gives you the best picks of a marijuana dispensary in San Francisco to choose from! With so many retailers out there, it's important to know the pros and cons of each company and location, as well as how they can best serve your needs.
Find a Dispensary in SoMa
The southern market in San Francisco is home to many charming shops and stores, including some top-quality marijuana dispensaries. Whether you are a visitor from a state where cannabis is not yet legal for recreational use and you want to try it before you leave, or you are already a frequent regular to these dispensaries, here are a few locations that could cater to your needs.
Project Cannabis SOMA Dispensary
Located right off Bryant and 6th street, Project Cannabis SOMA Dispensary is easily one of the top choices for visitors and locals alike. This friendly and upscale marijuana dispensary dedicates itself to providing a great product. They have a hand in all steps, from the germination of the seed to the moment it appears in their San Francisco dispensary.
Their goal is to make usage and access to marijuana possible for those who may be daunted by such a thing. But, they still provide an engaging experience to those who have used cannabis for years. Whether you're dipping your toe in the waters of cannabis or you already know your way around the various strains, if you're looking for the best dispensary in San Francisco, Project Cannabis absolutely has what you're looking for.
Address: 761 Bryant St., San Francisco, CA 94107
Phone: (628) 333-6159
Hours: Mon – Sun 8 a.m. – 9 p.m.
Find a Dispensary in Inner Richmond, San Francisco
An extremely diverse community known for its eateries that are rapidly drawing in more and more professionals, Inner Richmond is poised to have some of the finest dispensaries in the region. After a hard day's work, taking a short trip to a San Francisco recreational dispensary in this neighborhood could be a good way to unwind for an evening. Plus, all the various restaurants provide the perfect place to satisfy any munchie mood you may have.
Urbana Recreational Cannabis Dispensary Geary
Located off Geary Boulevard in the inner Richmond District, Urbana focuses on providing a very approachable experience with marijuana to its customers. This San Francisco dispensary also offers delivery to many areas in and around the city. So, you don't even have to leave your home to get your next batch of cannabis. They also have a very extensive menu to select from, and you can browse their selection online or in person.
Address: 4811 Geary Blvd., San Francisco, CA 94118
Phone: (415) 702-6767
Hours: Mon – Sun 10 a.m. – 9 p.m.
Find a Dispensary in Mid-Market, San Francisco
Mid-Market breaks from some of the traditional San Francisco molds in a way that can be quite pleasing. It's known for its urban sprawl, sure. But it's also home to some of the biggest tech companies in the state. Whether you're looking to relax from the fast-paced nature of your tech job, or you're just stopping by to browse the shops, Mid-Market has some fantastic dispensaries for you to check out.
Barbary Coast Cannabis Dispensary and Delivery
Barbary Coast Cannabis sets itself apart in that it doesn't just sell high-quality cannabis strains, but their dispensary also serves as a lounge. Sit and smoke or puff while shopping for marijuana to take home with you. This creates a unique atmosphere, and their sales associates can cheerfully provide an in-the-moment critique so that you aren't utterly confused by a large and detailed menu. This dispensary is near Chase Center, and should surely be on your must-go list of pot shops.
Address: 952 Mission St., San Francisco, CA 94103
Phone: (415) 243-4400
Mon – Sun 8 a.m. – 9:45 p.m.
Find a Dispensary in Mission District, San Francisco
There could be any number of reasons to visit the Mission District. Whether you're searching out a weekend hang-out, authentic Latino cuisine and culture, or simply there for the vibes, there are some solid dispensaries in the location.
Mission Cannabis Club and Delivery
Mission Cannabis Club prides itself on not only its quality of cannabis but on the experience of its staff, the appropriately named "budtenders." Much like the many other dispensaries in San Francisco, they offer delivery for their customers. But what sets Cannabis Club apart is the retro vibes of their smoke lounge. It's the perfect place to unwind after a night on the town or after a long week at work.
Address: 2441 Mission St., San Francisco, CA 94110
Phone: (415) 970-9333 (WEED)
Hours: Mon – Sun 9 a.m. – 9 p.m.
Find a Dispensary in Outer Mission, San Francisco
Outer Mission is a beautiful little urban area outside of the Mission District and right near the highways. If you're traveling nearby and feel the need for a little bit of cannabis, feel free to pay this area a visit.

The Green Cross
The Green Cross focuses on providing a very comprehensive product line for those who are already used to enjoying marijuana. They offer one of the more diverse selections of cannabis. Just glancing at their San Francisco dispensary menu will quickly prove this. They offer edibles, rolls, tinctures, CBD, and more, all at reasonable prices. If you feel the need for marijuana and you're nearby, The Green Cross should have it.
Address: 4218 Mission St., San Francisco, CA 94112
Phone: (415) 648-4420
Hours: Mon – Sat 8 a.m. – 8 p.m.
Sunday 8 a.m. – 5 p.m.
Find a Dispensary in Bernal Heights, San Francisco
If you're cruising through the neighborhoods of Bernal Heights and need a little cannabis, either for medicinal or recreational reasons, there are ample nearby shops that can happily accommodate you. Consider getting some and going for a slow smoke at one of the many vantage points in the area.
Dr. Greenthumb
Dr. Greenthumb is an award-winning brand name among dispensaries. They provide a vast selection of some of the more quality strains of marijuana in San Francisco. They take pride in offering unmatched customer service. One thing that sets them apart, though, is that they offer complimentary consulting to anyone who is wanting to start their own cannabis business.
Address: 3139 Mission St. #4503, San Francisco, CA 94110
Phone: (415) 814-2890
Hours: Mon – Sun 10 a.m. – 10 p.m.
Find a Dispensary in Visitacion Valley, San Francisco
If you find yourself in need of some marijuana on your trip to Viz Valley, you couldn't choose a better location. A great combination of shops and houses makes for a very scenic but activity-filled location to pick up your next edible or smoke.
Elevated San Francisco
Elevated started off as a patient-focused dispensary, but it has since added recreational users into that group. Those at Elevated seek to tailor the experience to each individual. They have a pretty impressive product line to do so. They also boast some of the more affordable prices in the city. Furthermore, they are frequently running promotions on their selection of tinctures, pre-rolls, edibles, and other inventory.
Address: 2442 Bayshore Blvd., San Francisco, CA 94134
Phone: (415) 825-5123
Hours: Mon – Sun 8 a.m. – 9 p.m.
Find a Dispensary in Financial District, San Francisco
Gone are the days when marijuana was associated with crime or seen in a negative light. Today, marijuana is legalized in more than half the country. Many states are now pushing for medical and recreational use. As such, dispensaries can find clients from among the affluent and the common man alike. The Financial District is likely to cater to high-end clients. It is a hub for the well-to-do individuals and businesses.
SPARC Cannabis Dispensary and Delivery Lower Haight
SPARC is a company that has expanded its brand and name outside of San Francisco. But that doesn't mean they aren't one of the better dispensaries in San Francisco. SPARC offers recreational and medical marijuana from a curated selection. They offer the clients some of the best types of cannabis offered. If you are finishing up your week of work and are nearby, consider stopping by and seeing what they have for sale.
Address: 473 Haight St., San Francisco, CA 94117
Phone: (415) 805-1085
Hours: Mon – Sun 9 a.m. – 9 p.m.
Find a Dispensary in Lakeshore, San Francisco
If you came to San Francisco for the beaches and sunshine, you can't do better than Lakeshore. Having a day right out on the water is great. Grabbing a cup of coffee or a snack from one of the nearby businesses is easy enough too. And, of course, don't miss out on paying one of these San Francisco dispensaries a visit while here!
Flight SF
Flight SF focuses on bringing its locals good quality cannabis at a price that can't be beat. They specifically aim at making the consumption and use of cannabis something that won't drain your bank account dry. This San Francisco dispensary is dedicated to encouraging whole-body wellness through the use of cannabis. The name of their store is actually an homage to the owner's mother.
Address: 61 Cambon Dr., San Francisco, CA 94132
Phone: (628) 216-5717
Hours: Mon – Sun 8 a.m. – 9 p.m.
FAQ About Dispensaries in San Francisco
Are There Recreational Dispensaries in San Francisco?
San Francisco is much like its not southern cousin San Diego in that there are a host of legal dispensaries. San Francisco seems to operate their dispensaries throughout the entire week, with some open all the time. (If you're visiting San Diego and need a quick replenishment, you can easily find a 24 hr dispensary in San Diego to shop.)
How do Dispensaries in San Francisco Work?
It is legal for anyone over the age of 21 to buy marijuana in the state of California. As such, whether for medical or recreational usage, marijuana is open to nearly anyone. One drawback about the current dispensary system is that marijuana is still illegal at the federal level. So bear in mind, most credit and debit cards won't be accepted, as banks have to comply with federal guidelines. You can save yourself some hassle when shopping at a San Francisco dispensary by taking cash. Or, take advantage of in-store ATMs, which are available at most shops.
Can I Smoke Weed in Public in San Francisco?
The long and short answer is, unequivocally, no. The only location where marijuana can be used, medicinally or otherwise, is in a private residence or a lounge at a dispensary. Smoking anywhere else could get you in trouble with local authorities. This is even more true if it is near any place where children are, such as a school. So make sure to smoke it at the lounge when you buy it, or save it for at home.
Do I Have to Pay Tax on Weed Purchases in San Francisco?
If you have a valid, state-issued medical marijuana (MMJ) card, you are exempt from paying state sales tax on pot. If you do not have an MMJ card, you can expect to pay the state sales tax rate on weed. There are other taxes that might be passed on to you, the consumer. Find out more about weed taxes in San Francisco here.
Experience All San Francisco Has to Offer
Cannabis is becoming a more accepted and regular part of society with every passing. There are even San Francisco 420 events to enjoy now. And as such, it is time to focus on the quality and the condition of marijuana. Whether you are new to cannabis or have been using it for years, these are solid places to visit as a local, and also even worth a road trip to San Francisco to grab these great cannabis buys. With this list in hand, you'll be sure to find the best dispensary in San Francisco with ease!
About the author: Courtney Pester is a San Diego based San Francisco bred millennial with a passion for design and self-expression. She prides herself in her charcuterie board making skills and has a soft spot for animals. When she's not pumping out articles you can catch her playing tennis and enjoying the diversity of events and restaurants San Diego has to offer.