Dispensaries Near Prescott, AZ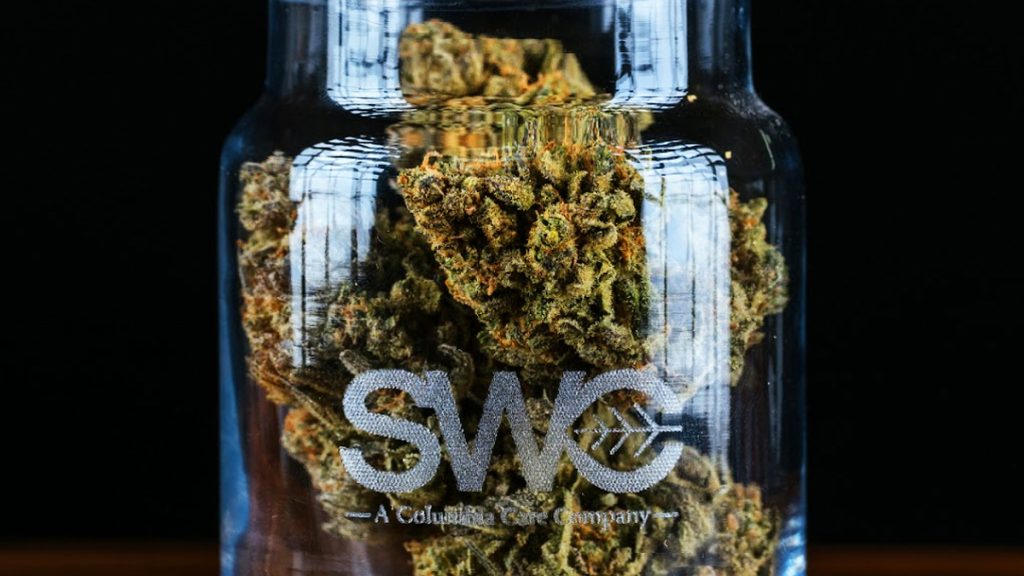 This post is part of our Best Dispensaries in Arizona series, brought to you by SWC Arizona.
Since the legalization of recreational cannabis in Arizona in November 2020, dispensaries have sprouted in Arizona like wildflowers. If you are a resident of the Grand Canyon State or passing through on an epic road trip and looking to score some bud along the way, you'll likely want to check out this short list of hot dispensaries in Prescott Arizona. 

Art exhibits, local eateries, and natural landscapes are on every corner of this precious city of Yavapai County, but there are only a few dispensaries in Prescott Arizona. We took the liberty of narrowing in on the select few cannabis retailers worthy of checking out, so you don't have to do the leg work. Without further ado, let's examine the cannabis joints considered the cream of the crop.
The Best Dispensaries Near Prescott
SWC Arizona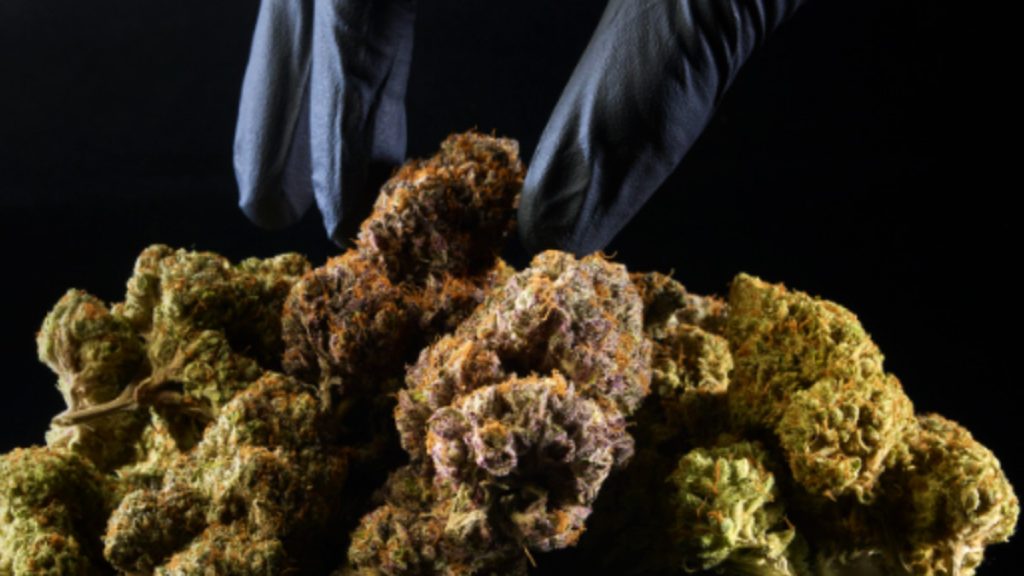 SWC Arizona is by far the best dispensary in Prescott when it comes to being well-rounded. Aside from their high-caliber cannabis and show-stopping shatter, SWC offers great specials throughout the week and is committed to providing their customers with an effortless and pleasurable experience on their journey to finding plant products. Budtenders at SWC offer informative and friendly guidance to help both newbies and habitual weed users find the best weed varieties relative to their individual needs. Their brick and mortar is casual, convenient, and eclectic, and according to customers, they supply the "best meds in the quad city area." If you don't know, now you know–as The Notorious B.I.G. would say.
Address: 123 E Merritt St, Prescott, AZ 86301
Phone: (800) 456-2455
Hours: Mon – Sat, 9:00 a.m. – 7:00 p.m.
Sun 12:00 p.m. – 6:00 p.m.
Nirvana Center – Prescott Valley
This Prescott dispensary located in Prescott Valley is a haven for cannabis cravings in all shapes and vehicles. Nirvana Center is a chain of dispensaries that offer cannabis-related resources, personalized deals and discounts, and budtenders–or "Nirvanists"–who will work directly with you to help curate a one-of-a-kind cannabis experience. The Nirvana Center is also committed to changing the landscape for cannabis by endorsing reform for communities affected by the War on Drugs, and offer a loyalty program with Nirvana rewards for their customers. One caveat to this Prescott valley dispensary is that they tend to have unpredictable service–you never know what you might get.
Address: 6287 E Copper Hill Dr, Prescott Valley, AZ 86314
Phone: (928) 227-244
Hours: Mon – Sat, 9:00 a.m. – 9:00 p.m.
Sun 9:00 a.m. – 8:00 p.m.
203 Organix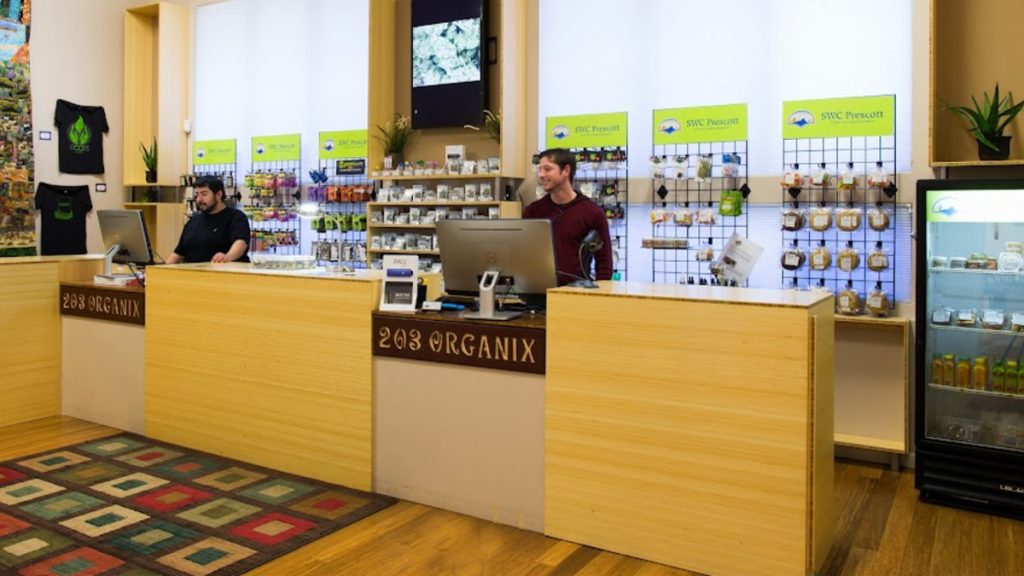 203 Organix is the parent company of SWC Arizona, so if you're looking to shop at a dispensary with this name – you've come to the right place! They are dedicated to providing their cannabis patients with medicinal cannabis and natural homeopathic remedies to help enhance mood, alleviate pain, stress, anxiety, and other unwanted symptoms, and improve quality of life. We've already touched on this dispensary above, so give them a visit.
Address: 123 E Merritt St, Prescott, AZ 86301
Phone: (928) 778-5900
Hours: Mon – Sat, 10:00 a.m. – 7:00 p.m.
Sun 12:00 p.m. – 6:00 p.m.
Frequently Asked Questions About Dispensaries in Prescott, AZ
To better assist you with your weed purchasing journey, here are some helpful answers to frequently asked questions about cannabis that pertains to Prescott, Arizona.
Is Weed Legal In Prescott, AZ?
The short answer is yes–weed is legal in Prescott, Arizona. Legally, you can possess up to 1 ounce of pure flower or 5 grams of concentrate. You must be 21 and up to purchase, use, or possess marijuana recreationally. You'll quickly come to find that any dispensary near Prescott AZ will offer weed for recreational use for sale, and won't require you to have a med card to purchase, though you will definitely need a form of identification.
Are Arizona Dispensaries Cash Only?
Not all Arizona Dispensaries are cash only, but some definitely prefer cash to card. Why? Due to controversy, many banks and financial institutions still hesitate to accept money from dispensaries. Consequently, dispensaries often suggest cash over debit or credit card transactions since they are federally regulated. You'll likely see some cash-only cannabis businesses who operate in this way to avoid conflict with the government, but you'll also be able to find dispensaries in Prescott Arizona that accept debit–such as those listed above. SWC even accepts the Columbia Care National Credit card.
Can I Order Weed Online In Prescott?
At pretty much any dispensary Prescott has to offer–which is merely a select few–you'll find the option for an online ordering system to spare you some time. SWC is one of the best dispensaries in Prescott Arizona because you can take advantage of their online ordering. Simply select your preferred strains and accessories, pop right in at your leisure, skip the line, pick up your kush, and be on your merry way.
Final Thoughts About Prescott, AZ Dispensaries
While we find each of these cannabis sanctuaries to be equally inviting as they are exciting, we do have slight favoritism toward SCW Arizona. With high quality flower, fast service, daily deals, and friendly staff, SCW is a Prescott dispensary you truly won't want to miss. We hope this article helps you decide which Prescott dispensary is up your alley, though you can't go wrong either way! Just remember, stay safe and abide by Prescott's driving high laws. Thank you for reading, now grab some bud and consume responsibly!