Celebrate Gratitude & Thankfulness at the November First Friday Art Walk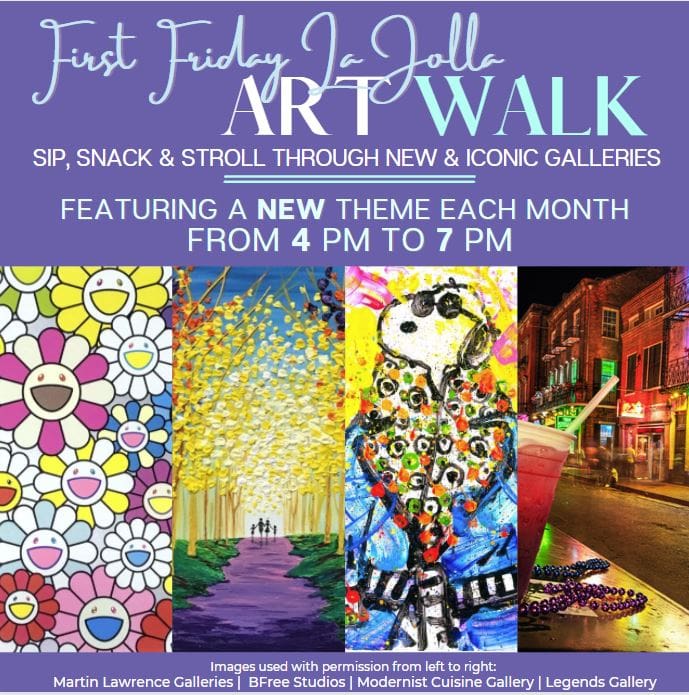 The first Friday of November is nearly here, which means that it's time for another First Friday Art Walk in downtown La Jolla.
If you don't know about the First Friday Art Walk, it's a monthly celebration of all things art & culture all across the beautiful city of La Jolla. If you attend the art walk, you'll enjoy a casual sip, snack, and stroll through some of the finest art galleries in the "Jewel of San Diego."
Each month, there's a new theme. For the November First Friday Art Walk, the theme is "gratitude." Although that may be obvious for this time of year, each gallery and business is able to interpret that theme however it wants — leading to some unique curation and art.
Galleries will be showing off and exhibiting all types of artwork, and many provide refreshments such as complimentary catered cuisine, signature cocktails, and hot toddies. That makes it a good choice for the ultimate art lover's date in La Jolla.
The art walk kicks off at 4 p.m. on Friday, Nov. 3 and runs through 7 p.m.
Across La Jolla, the art walk will include some of the neighborhood's best local businesses and art galleries, such as:
Art in Framing
Banksy Cafe
Be Boutique
CC Patio
Charleston Shoes
Christopher Aaron Gallery
Contemporary Fine Arts Gallery
Cosmopolitan Fine Arts
Custom but Mamak
Edna Pines Studio & Art Gallery
Eppig Bierhaus
Indigenous by La Rue
Klara Chavarria Art Gallery
Krista Schumacher Art
L&G Projects
Legends Gallery
Lik Fine Art
Mangelsen Images of Nature
Martin Lawrence Galleries
Modernist Cuisine
National Gallery of Fine Art
The Shop La Jolla
Shamal Art Gallery
Siler Fine Art Gallery
Simic Galleries
Sotheby's Int'l Real Estate
Thumbprint Gallery
Vuori
Yiddishland California
Although the First Friday Art Walk is completely free to attend, the organizers ask that you register ahead of time to get a free parking pass provided by ACE Mobility and a digital map of participating galleries.