The Shops at La Jolla Village: One-Stop Shopping Near UCSD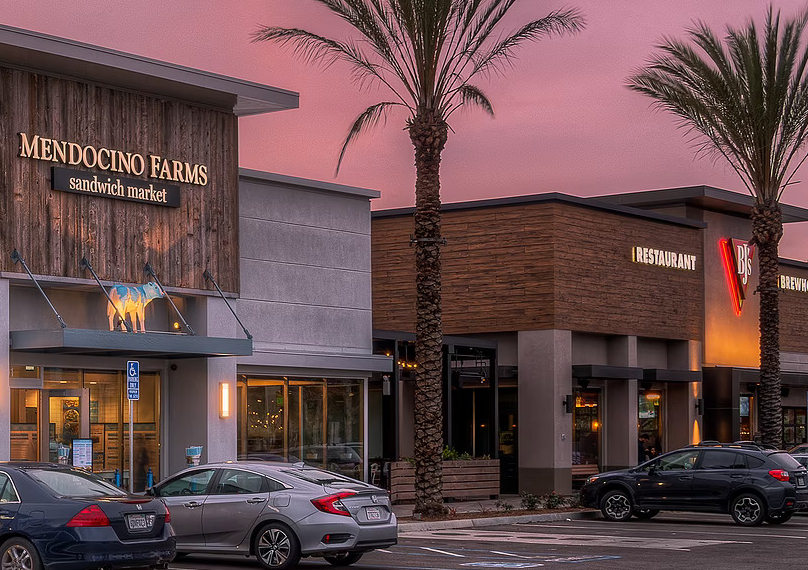 We asked frequent contributor Courtney Pester to write a brief essay about shopping in an oft-overlooked corner of La Jolla frequently referred to as "the Whole Foods shopping center." This is part 1 of a 2-part series. Read "Where I Like to Shop in San Diego" here.
If you find yourself in La Jolla and you want to go to a Whole Foods, your closest bet is a shopping center called "The Shops at La Jolla Village." There's also a CVS, a couple of banks, several restaurants, places to ship packages, and a whole lot more crammed into one tiny parking lot. The only drawback is that sometimes the place gets pretty jammed up with cars–especially during peak times–but what parking lot in San Diego doesn't?
Need a fresh manicure or a new hairdo? Want to pump up your energy levels with some rejuvenating exercise? Have a friend's birthday coming up and have yet to purchase a gift or cake? Craving grilled cheese? The Shops at La Jolla Village is one of those gems that seems to have it all, and there are tons of options to help you check off your to-dos.
We have already written an article on La Jolla shopping to help you see all the shops over in the actual La Jolla Village area, but I wanted to give you a run down on all the hot spots I hit when I shop at this particular shopping center to help you have the best shopping experience possible, from someone who absolutely loves to shop.
Spend a Day With me in the Shops at La Jolla Village
When visiting, I always prepare for parking to be chaotic. After all, you have the closest grocery store to UCSD plus all these other places where the locals run their errands. I never stress it, though, and I have always found a parking space.
I'd love to start going to the SOULution Pilates studio to help get my morning started and sweat out any toxins I've accumulated from the previous night. There are several fitness studios in the area, but if I went to this one I could also knock out a little grocery shopping and maybe some other errands in the same trip! Plus, I've read that Pilates is a low impact workout that provides great results for those who are patient enough to sit through a class jam packed with isometric movements.
After my workout, I'd order my usual at Philz Coffee–an iced Mint Mojito Coffee, light ice, half sweet. Snooze Eatery also has excellent brunch if I'm feeling a little more bougie and want a heartier meal. (Check out this list of delicious eats in La Jolla if you want to explore a more expansive list of places to eat elsewhere in La Jolla.) Since I'm a writer, I often pack my computer, charger, planner, journal, and a good book with me when I go out. I would take pleasure in coworking in coffee shops such as Philz because I find myself to be more motivated in a lively environment with others who are also working hard and tackling their daily tasks. Of course, there are countless other places to get a cup of joe in San Diego, but if I were here, that's where you'd find me!
After a couple of hours of grinding away on some music, design, or writing-related content, it would be time for some hearty grubbing. Since I'd already be near Whole Foods, a.k.a. "the closest grocery store to UCSD," a.k.a. "the Whole Foods you can see the huge temple from," a.k.a. "the La Jolla Whole Foods…" (Hey, it gets a lot of nicknames around here!) Anyway, since I would already be here… I love a good browse through their hot and cold food selections, but typically opt for their sushi, which is always so fresh. And since I have a sweet tooth and can't go a day without dessert, I might finish lunch with their mochi ice cream, which is a small dessert that brings me pure joy. Another smashing spot to eat lunch in The Shops at La Jolla Village is Cava's Mediterranean food–I'm obsessed with their chicken shawarma plates or wraps, and they have plenty of flavor-packed sauces and dips to accompany their dishes.
Realistically, I can't leave a shopping center without doing a bit of shopping, so if I was up for it and willing to take on the risk of potentially spending more money than I originally anticipated, I could pop into Nordstrom Rack to check for some of my favorite luxury brands, and probably buy a few articles of clothing. If my wallet wasn't hurting too bad after that little shopping spree, I might peek my head into Sephora to re-up on a makeup product since I always seem to be needing something–whether it be a face cream or exfoliant or foundation, or occasionally some fancy perfume to add to my tiny collection. If you're needing a new fresh scent of your own, don't skip an online search for a perfume coupon code to get discounts on the most alluring fragrances, so you can look and smell your best without breaking the bank.
After a full day of fun hopping from store to store, it would be time for me to unwind. Before I left, I'd hydrate with some fresh juice at Nektar and sip it on the drive home.
There ya have it! I hope my own (imaginary) shopping adventure inspires you to check out all the fun stores that The Shops at La Jolla Village shopping center has to offer!
The Shops at La Jolla Village is located at the intersection of Villa La Jolla Dr. and Nobel Dr., near the 5 freeway. And rest assured – whether it's making the holidays, Valentine's day for him or her, birthdays or any special occasion – the Shops at La Jolla Village has you covered.
About the Author: Courtney Pester is a San Diego-based, San Francisco bred millennial with a passion for design and self-expression. She prides herself in her charcuterie board making skills and has a soft spot for animals. When she's not pumping out articles, you can catch her playing tennis and enjoying the diversity of events and restaurants San Diego has to offer. Additional reporting by LaJolla.com staff.
The top photo in this article is courtesy of theshopsatlajollavillage.com.